Minorities' Political Rights Emphasized In Recent Report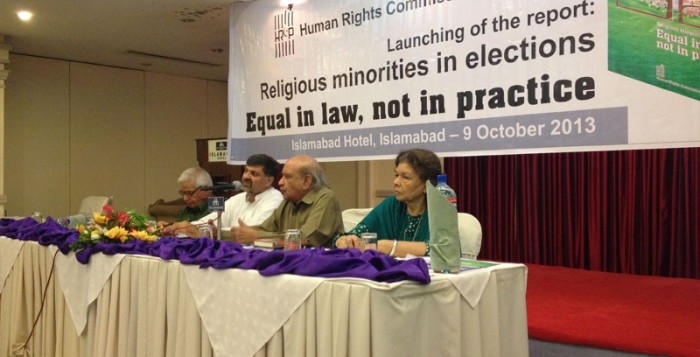 A recent launch of the report, Minorities in Elections—Equal in Law, Not in Practice, held in Islamabad attracted media representatives, humanitarian and civil society workers, and members of minority communities in Pakistan. The report is a collaborative effort between CWS-P/A and the Human Rights Commission in Pakistan (HRCP) and aims at equality for minorities in their electoral rights.
"The government, Election Commission of Pakistan (ECP), and political parties need to take affirmative actions to safeguard political rights of religious minorities," said I.A. Rehman, HRCP's Director, at the event. He also referred to a need for the ECP to address violations of law, citing an example from the elections in a constituency where pamphlets were distributed that warned Muslims against voting for non-Muslim candidates.
With observations from six National Assembly constituencies (five from Sindh – 80 percent Hindus and one from Punjab – 80 percent Christians), the report further highlights the various challenges faced by minorities during the general election.
Some challenges included pressure on minorities from big political parties to vote for them and the lack of opportunity for minority representatives to contest for general seats.
This report is part of a wider collection of research, reports, and documentaries that CWS-P/A and partners produced in recent years with the aim of improving the participation and representation of minorities in the country's governance system and electoral process. These initiatives also aim to encourage marginalized communities to join political discourse and processes in the country so that issues may be widely understood and eventually addressed.
To read more about the event in national media, please access these links:
http://tribune.com.pk/story/616023/hrcp-report-poll-time-issues-for-minorities-highlighted/
http://www.thehindu.com/news/international/south-asia/pak-polls-and-minorities-woes/article5218848.ece
http://www.dawn.com/news/1048655/minorities-treated-unfairly-in-polls
http://www.thenews.com.pk/Todays-News-6-207258-Religious-minorities-did-not-get-equal-rights-in-electoral-matters
http://ahmadiyyatimes.blogspot.com/2013/10/pakistan-religious-minorities-did-not.html