Meeting Health Needs in Shangla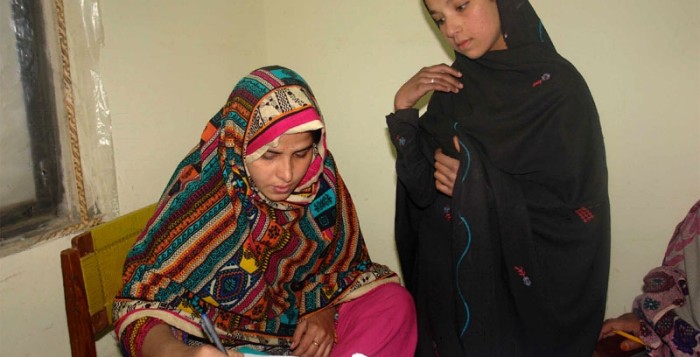 CWS-P/A supports poor communities in Shangla District, Khyber Pakhtunkhwa Province through health facilities in Karora and Alpurai. The district's health facilities suffered damages and disruptions during the 2005 earthquake followed by conflict and then the 2010 floods. In addition to the compounded disasters, the topography of the district adds to the communities' hardship in accessing essential health services. The district is dominated by high mountains and narrow valleys which make travel cumbersome.
Since September, a total of 19,813 consultations were provided, and common illnesses among community members include respiratory tract infections, diarrhea, skin infections, and more severe conditions of diabetes, hyper-tension, and tuberculosis. CWS-P/A's health team conducts awareness sessions which reached 16,417 community members, while health staff also referred 209 patients to secondary and tertiary health care units. The awareness sessions inform the community members about good hygiene practices, knowledge of common illnesses and prevention, and the importance of mother and child health care. The efforts aim to improve the health status by encouraging improved hygiene and health practices.
For community members like Umar Taj and Bakht Pari, the health facilities provide comfort and peace of mind. Umar Taj's neighbor, Muhammad Bashir, reports that while he was at work in his field, Umar Taj fell from a ladder. Muhammad Bashir assisted Umar Taj and brought him to the health facility at Karora where he received treatment.
CWS-P/A's female doctor treated Bakht Pari and her children who were not aware of their skin infections which transformed into scabies. The family received medication and information about its prevention at the health facility in Alpurai. Bakht Pari and Umar Taj appreciate the services at the health facilities.
More convincingly, community members highlight how the provision of free medications and immediate attention to health concerns make CWS-P/A's health services in Shangla District appreciated.
As health activities continue, CWS-P/A continues to mainstream quality and accountability into its projects. Following recent training on quality and accountability, the health staff members actively apply HAP and Sphere into their daily health project activities. This ensures that services to communities are effective, address the greatest needs, and reflect commitment and preserve dignity.