Meena's Story: Dental Care Improved her Health and Confidence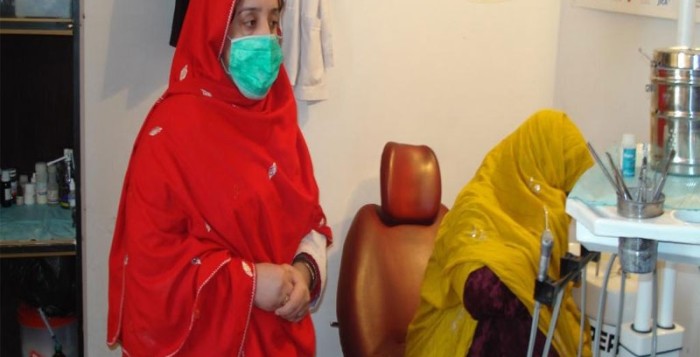 CWS-P/A's health services in Nangarhar and Laghman Province, Afghanistan, have continued to assist communities to access health services and health education. Several factors including travel costs from remote areas to city hospitals and high consultation fees at private clinics prevent poor, marginalized communities from accessing health services, thus, worsening already poor health conditions. Approximately one year ago, CWS-P/A's dental care initiative began and has assisted people, particularly women, who otherwise did not have access to quality dental services.
From Kalee Shai Village, in District Surkhrood, Afghanistan, Meena shares her story after her successful dental treatment at CWS-P/A's clinic in Sultanpoor. When Meena was ten years old, she fell while playing with friends and badly injured her face, causing defect in the front region of her mouth. Despite the intense pain she suffered, it was several years later that she paid attention to the problem. Aside from pain, she was teased by other girls due to the visible defect. She pleaded with her mother to seek treatment.
Meena visited the city's public hospital and was advised to visit the dentist's private clinic. After her initial treatment of cleaning and tooth-filling which cost her family four hundred Afghani, she developed severe inflammation. She made several follow-up visits to various dentists who continued to prescribe medication that did not resolve her problem. Without proper treatment and her family's inability to continue to pay fees, her situation worsened and she needed a root canal. She finally received proper treatment and medication free of cost at CWS-P/A's district health facility that offers dental services. She had discovered the clinic through a neighbor. She describes, "We are poor people and could not afford any more spending in private clinics. Now, I feel relieved because of CWS-P/A's health facility that provides the community with free treatment and medicines."
CWS-P/A's health facilities in Afghanistan continue to assist poor and marginalized communities with quality health services. In addition to dental services, the program offers curative, preventive, and reproductive health care. Along with increasing community awareness of important health issues, CWS-P/A is helping improve mother and child health. By offering quality health services on a regular basis, the targeted communities experience improvement in health and realize their right to access quality health services.