"Masters Teacher Training on Pedagogical Skills" in Laghman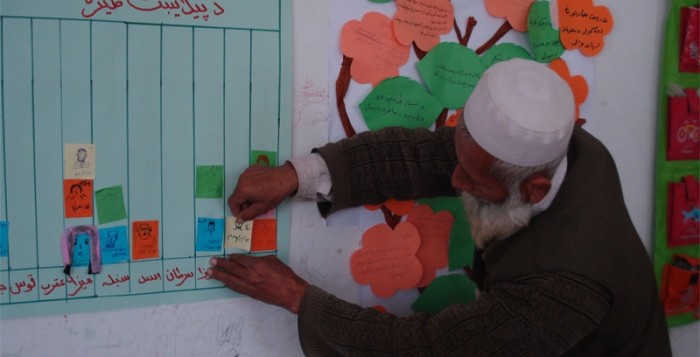 To increase knowledge about civic education and improve the quality of teaching and learning in schools, a five-day "Masters Teacher Training on Pedagogical Skills" was held from February 10 – 14, 2014. Twenty male teachers from seven girls' high schools in Qarghayee district of Laghman province in Afghanistan, attended the training with the aim to acquire knowledge, skills and practical proficiency to become good trainers.
During the training teachers were introduced to child centered approaches and methodology to foster an environment which promotes physical, social, emotional, and cognitive development of children. To strengthen the capacity of teachers, a variety of training methodologies and facilities were adopted by applying principles of adult learning and steps to behavioral change by using audio-visuals; and practicing training sessions. The basic principle is to share information by active participation to increase the interest and efficacy of the trainees and introduce them to ways about how to make learning fun and interesting by creative activities. The teachers were encouraged to replicate and share their learning's and enhanced skills with other teachers within their schools, community and stakeholders to develop their capacity. "Usually the trainings I have attended were all theory based but this training was practical which helped us to learn more. This training was very well and I learned how to develop low cost teaching material. I will also share my experience and learning with other teachers," said Najeebullah, a teacher who attended the training.
A follow-up session will be conducted to evaluate how the learning was adopted by the master trainers on identified indicators such as the number of lesson plans developed, morning meetings, number of mentoring and coaching sessions, group formation at class level, developing and displaying of class rules and assigning responsibilities to students. The District Education Director and Qarghayee District Governor were present at the closing ceremony of the training and distributed certificates among the participants.