Mastering Pedagogical Skills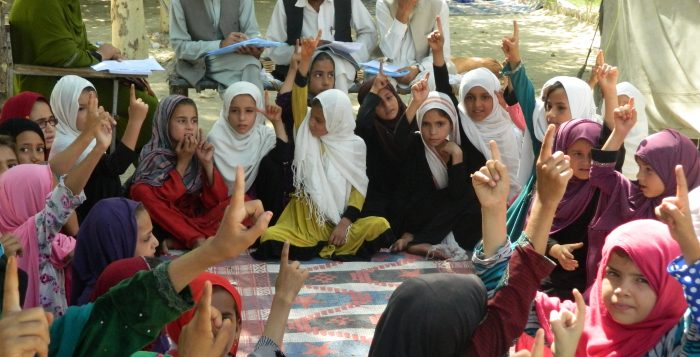 Education is the stepping stone to achieving success in life and enables individuals to utilize their skills and talents productively.  To ensure that this essential right of individuals is met, Community World Service Asia, with the support of Act for Peace and Presbyterian World service and Development (PWS&D) is implementing a Girls Education in the Nangarhar Province of Afghanistan. This initiative aims to improve the quality of education quality and community's awareness towards enhancing and sustaining girls' enrollments in schools in the Behsood district of the province.
A five days Master Teacher Training has been designed to consign activities with sessions focusing on  Coaching and Mentoring for teachers in schools under the project. The training ended in the first week of September with a total of  twenty teachers taking part.  Four of these teachers were men, while sixteen of them were women.
The training explored the process of creating child friendly classrooms. Child-friendly classrooms have shown to increase student motivation and enrollment, hence was a significant session of the training. The learning involved sessions on developing low or no cost teaching materials that would effectively support lesson planning and increase student interest. The training focused on skill polishing on planning processes for effective classroom routines including annual, monthly, monthly and daily planning. It also highlighted the importance of morning meetings which promoted development of social and emotional skills, positive attitudes and values among children.
Coaching and mentoring sessions were conducted for new teachers. The main focus of coaching and mentoring conversations for education quality is to build the competency and capability of teachers. This skill will enable them to plan towards achieving the school's strategic vision and priorities in the curriculum, teaching and learning methodologies, classroom assessments, and can effectively make judgments about students' progress and outcomes.
The five-day training involved brainstorming sessions, individual exercises, group activities, interactive discussions and energizers which kept the teachers active and engaged throughout the workshop. The participants were very satisfied with the training as most of their expectations were met and encouraging feedback was received from them.
Ghulam Jelani, Teachers' Monitoring and Evaluation member, with 8 years experience with the education directorate in Afghanistan expressed,
"This is my first time attending such an effective training and as my responsibility is to monitor all teachers at school, I have to be clear on what I am monitoring and capacities the teachers must have. Attending this five-day training helped me learn a lot about morning meetings, lesson plan development, classroom environment, conducting observation sessions and providing feedback based on the observations."
Parwin, a teacher at a Girls High School added,
"The training helped me improve my training and observation skills. The best part about this training was that we conducted a school visit and monitored teaching process of other teachers. During this visit, we observed other teachers and pointed out their strengths and weakness in their methods and then provided them with feedback on how to improve their gaps".