Market Access and More Business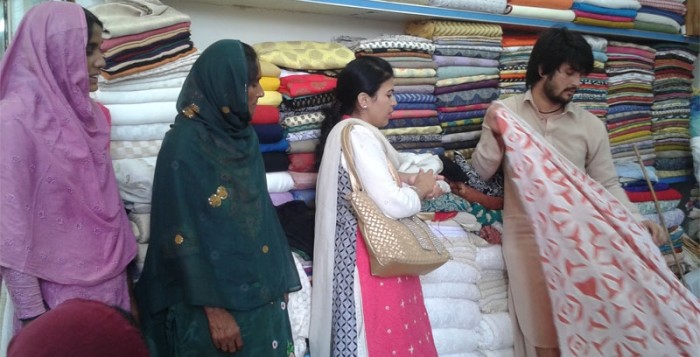 In 2012 CWS-P/A initiated a project in Thatta District, Sindh Province to increase livelihood opportunities for marginalized women.  The project focuses on empowering women with vocational skills, basic literacy, health information, and knowledge on disaster risk reduction. Women have also participated in product development trainings to modernize and increase the marketability of traditionally known skills and products which was led by an urban designer. Furthermore, the project is working to establish market linkages to help bring the women's products to urban markets and increase their household earnings.
Women from Jaffar Mallah Village travelled to Karachi for the first time in July to visit shopping centers and malls for their initial exposure to urban markets. This provided the women with a basic understanding of market demands and contemporary trends in embroidery work. The production supervisors and sales and marketing agent from the first vocational center visited Karachi earlier in February. They reported a better understanding of how the market works. Additionally, the visit resulted in product orders for 1,000 hand-embroidery buttons and fabric yardage. The women from Jaffar Mallah received a small order which includes a few yards of the finished product. They hope that that a larger follow-up order will result based on the sample production from the small order.
Raheema who came to Karachi said, "I was very excited since I had not been to Karachi after my childhood. It was good to visit different markets, big malls, and shops. I also got to know that the prices of the products were very high and the market value of the products which we make in our village can be sold at good prices. These products have a greater demand in cities as compared to villages." At the markets, she had seen purses which she shared were priced between 800 and 3,000 rupees (USD 8 – 30). She added that most of the products being sold were the same as those produced by women like her in their villages.
Raheema is a production supervisor in Jaffar Mallah and has committed to motivating other women to improve their skills so they can make an income from their embroidered products. She noted, "There is a big difference in style and fashion between cities and our rural areas. There is also a difference in quality, color combination, materials used in products, and diversified ways of using embroidery work. I noticed that there is currently a demand for appliqué work. With the coordination of the project staff who accompanied us during the visit, we purchased items including, a purse, keychain, pieces of appliqué work, and small embroidered items as samples. We will be trying to make similar products soon." Raheema believes that their hopes and interests have increased further and this will work to significantly reduce poverty.
The work in Thatta District to alleviate poverty and empower women is made possible through financial contributions from Christian Aid.