Livestock Services and Support Initiatives in Pakistan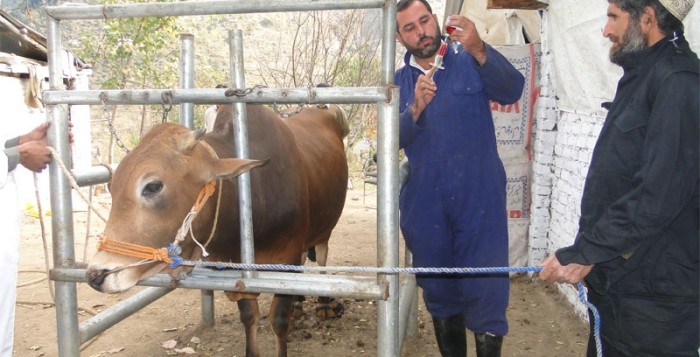 In Shangla District, Khyber Pakhtunkhwa Province, CWS-P/A worked to restore livestock-based livelihoods by providing families who lost their livelihoods during the 2010 floods with training and livestock. With enhanced knowledge of livestock management, the families that received animals from CWS-P/A reported an increase in income earning opportunities. However, the lack of veterinary and artificial insemination services, improved breeding bulls, input supply stores, and fodder production practices limited the degree to which income could increase.
In April 2012, CWS-P/A began an initiative to improve animal breeding and nutrition services. With the objective of mitigating livestock losses and improving livestock breeding and nutrition services, two farms were established in Shangla District. The farms include natural livestock breeding and artificial insemination services. Additionally, livestock specialists supervise the farms with assistance from expert technicians on artificial insemination. These veterinarians also provide animal health services. So far, as many as 867 households received assistance with animal breeding and treatment services. Field staff with the project share that the average milk production of local breed livestock remains 900 liters per lactation while for crossbreed livestock it is 1,740 liters per lactation.
From Barkana Village, Waris Khan shares that livestock rearing is his main source of income. He added, "In 2010, the flood situation was very alarming and our animals suffered a lot. There was no feed and water available for weeks. In fear of the death of my animals, I sold two buffaloes for a very low price." Waris Khan also discussed the care his buffalo received from the farm staff during calving. "When I discussed my problem with Dr. Karimullah, he decided to come with me to treat my buffalo at my home. Later he briefed me on how to take care of the calf and cow and on fulfilling their food and nutritional requirements."