Livelihood Support for IDPs and Host Communities in Kohat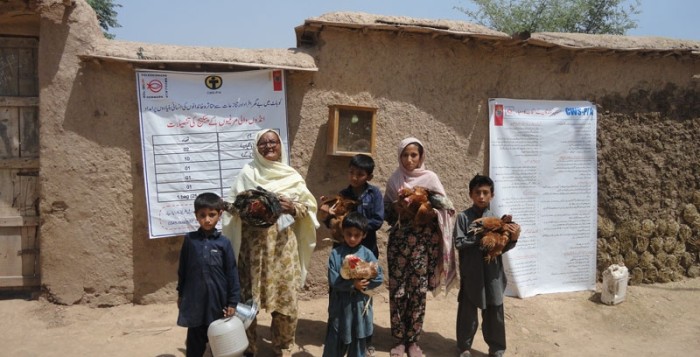 To improve the livelihood of IDPs and host communities, CWS-P/A initiated humanitarian efforts in four union councils of Kohat District, Khyber Pakhtunkhwa Province. Continuous insurgency and military operations in the tribal areas of Pakistan has resulted in a huge influx of IDPs in Kohat and surrounding areas. Access to livelihood opportunities and other basic necessities is a challenge for the IDPs. With the extra demand on resources and services, the host community, particularly vulnerable families, also face increased challenges. The initiative aims to reduce this burden and increase access to food and livelihood among the IDP and host communities.
During the month of June 2014, the distribution of poultry inputs among 400 families was completed. Each family received ten crossbreed hens and two roosters along with a cage equipped with a drinker and feeder. Training on backyard poultry farming and sufficient poultry feed for one month was also provided.
CWS-P/A prioritizes community ownership in projects. The establishment of village committees is one aspect of the approach. In Kohat, village committees (four each for men and women) have been formed. During a two-day training on disaster risk reduction (DRR), village/community DRR plans and two DRR committees were also developed. DRR kits were handed over to both of the committees, which included necessary items to be utilized during an emergency. The female village committee members assisted in identifying 70% of IDPs and 30% of host families which were further assessed by the CWS-P/A team for receiving the poultry package.
The overall project aims to assist 1,900 conflict-affected and host families. The activities include the provision of cash-for-work opportunities to 1,000 families, seeds and fertilizer packages for kitchen gardening to 500 families, and poultry inputs to 400 families. Training on DRR for 900 families is also planned. The skills and knowledge gained through these components will be valuable for beneficiaries in the long-run to restore their livelihoods and decrease vulnerability.
This assistance is possible through generous support of DANIDA through DanChurchAid.