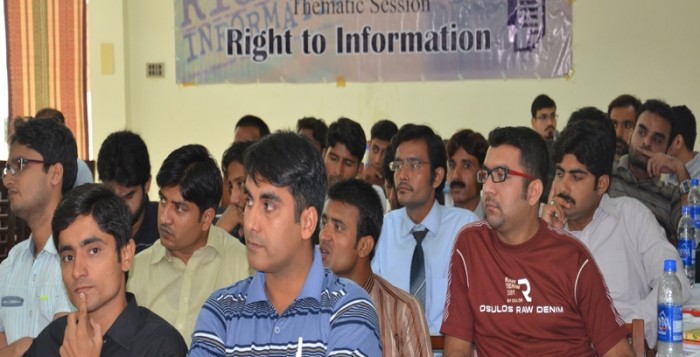 "Freedom of information is a fundamental right and the touchstone of all freedoms." United Nations General Assembly, 1946
Good governance cannot be offered to the citizens without offering them the right to information which is considered as oxygen for responsive democracy. Qualitative democracy is not just head counting of individuals but it has to empower, facilitate, and protect the citizens; life, liberty and essential rights. To follow and further inspect the actions of their government, citizens require accurate and timely information which enables them to have a meaningful say in decision making processes.
In August 2014, CWS-P/A organized a half-day session in Hyderabad, Sindh to orientate the participants about their right to information. A diverse group of thirty-two participants including social workers, students, journalists, and members of civil society organizations acquainted themselves with their significant right to information in modern democracy.
Right to Information emerged as a municipal law in Sweden in 1766; Pakistan was the first among South Asian countries to introduce this law in 1997. It is a primary right of all citizens according to Article 19-A of the Constitution. It states that every citizen shall have the right to access information in all matters of public importance subject to regulation and reasonable restrictions imposed by law.
Further discussion among the participants covered aspects of democracy which can either be procedural or by providing opportunities to citizens to express their thoughts. It was mentioned that the system of democracy is dynamic; therefore, it is essential to sensitize and empower the citizens through civic education, strong advocacy and training. Furthermore, to educate children about their political rights, political and civic education should be included in the curriculum from primary education.
"Information is power, aid of knowledge. Common man has lack of trust in the system operated by the government due to lack of information. Every citizen shall have the right to freedom of speech and expression, and there shall be freedom of the press. Media is considered as a mirror of state; therefore, we should encourage investigative journalism," shared Jami Chandio, session facilitator.
Over the years, CWS-P/A has worked with partner organizations to develop the knowledge and abilities of students and young representatives of marginalized and minority groups to strengthen democratic structures and to exercise their democratic rights.
The Capacity Institutionalization Project is funded by Bread for the World.