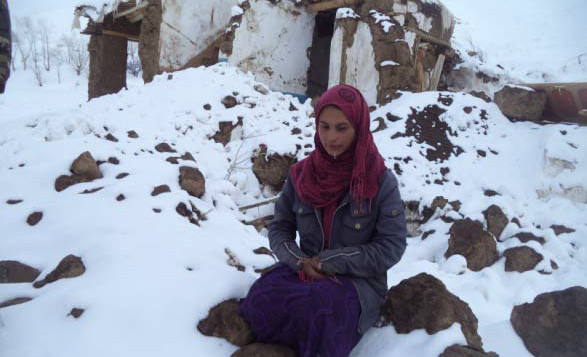 Khumari's eyes reflect the sorrow of losing three brothers and a cousin. Trembling with fear she shared, "my father and elder brother are soldiers based in Helmand province, south of Afghanistan. It was during midnight when our village based in Darra district of Panjsher province was hit by a snow slide flowing into our homes and destroyed everything."
Khumari ran out of her house to save her life and recalls the screams and cries of other village members during the disaster. "My family members were trapped inside the house under the snow. Later my uncle helped to take them out." Some of her family members survived the incident and were shifted to safe areas; however those who were not able to make it were left in the snow.
"Everything is destroyed. My father and my brother arrived the next day and were shattered to see our ruined village. Dead bodies of humans and animals were on the ground and some of them were still buried under the snow." Khumari and her family feel very helpless and are in dire need of assistance. Looking forward to a helping hand, community members are willing to move out of this area to start a new life given that they are provided assistance from humanitarian agencies to fulfill their immediate emergency needs.