Keeping Children Warm during Afghanistan's Winter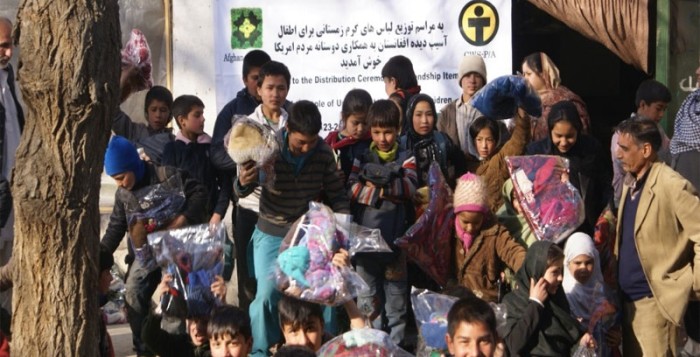 As years pass, families in Afghanistan still cope with hardships from oppression, war, poverty, hunger, and sickness. In a 2010 study by the Afghanistan Independent Human Rights Commission up to 40 percent of the country's 15 million children were likely to be engaged in some sort of paid work. While research by the United Nations Development Program shows that 68 percent of Afghanistan's population is under the age of twenty-five. Issues of child labor, malnutrition, and illiteracy prevail in the country among the poorest whose struggles seem to never end.
CWS-P/A's partner, Afghans for Afghans, has organized knitting of winter clothes for children in Afghanistan for nearly a decade. CWS-P/A has made it possible for children in need of winter clothing to receive the knitted items which include sweaters, socks, mittens, and hats. The clothes are distributed through local organizations working with vulnerable children including Afghan Women Education Center (AWEC), Afghan Rehabilitation Health Social Organization (ARHSO), Sohulat Health Service and Vocational Organization for Afghans (SHSVOA), and Support Children And Afghan Women in Need Organization (SCAWNO).
One thousand children received a total of seven thousand winter clothes items. Mohammad Mustafa received assistance through SCAWNO for the second year. Mohammad and his brother were forced to start working in order to support the family after his father's death. "Life became less difficult after being linked with SCAWNO through which I have been gaining new skills and acquiring an education," shares Mohammad. This child selflessly aspires to take better care of his family, and he truly appreciates that he received the winter clothes. Without this initiative, Mohammad, his brother, and thousands of other children would face Afghanistan's harsh winter without proper protection from the freezing temperatures.
At the various distributions, the children's expressions tell how much the kind gesture means. At the moment of receiving the clothing items, the children feel a sense of joy despite the harsh realities they face every day. CWS-P/A acknowledges that the ongoing support from AFA continues to encourage hope and helps families coping with loss and devastation from years of war.