Jannat's Story: When Poverty Meets Disaster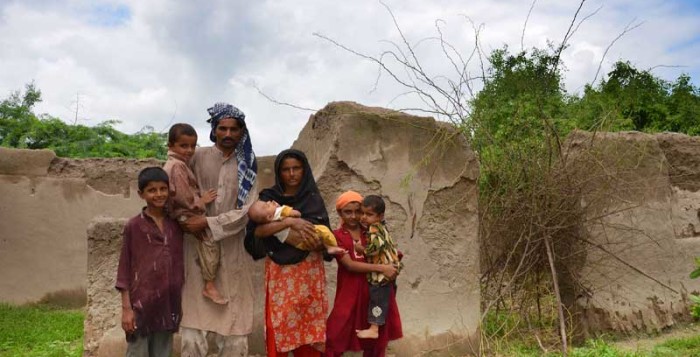 THATTA DISTRICT, SINDH, PAKISTAN: "God give me the strength so we can rebuild our house to be able to live the life we were living previously. My entire house has collapsed along with some of our belongings that have gone underground with it. My house had two rooms and was made of mud."
Jannat, a twenty-eight year old woman with two children from Thatta District lives presently in her parent's house
in the village of Haji Ladho Khaskhelly. She belongs to the same village while additional family members residing in the three rooms of the house include Jannat's three sisters, her brother, and his wife. Her husband, Haider, sells vegetables in the local market in the tehsil of Mirpur Bathoro.
"He earns between 100 – 200 rupees (USD 1.11 – 2.22) per day, and the money is not enough because neither the vegetables nor the cart belong to him. It will cost as much as 40,000 rupees (USD 444.44) to rebuild our house. We do not have that much money."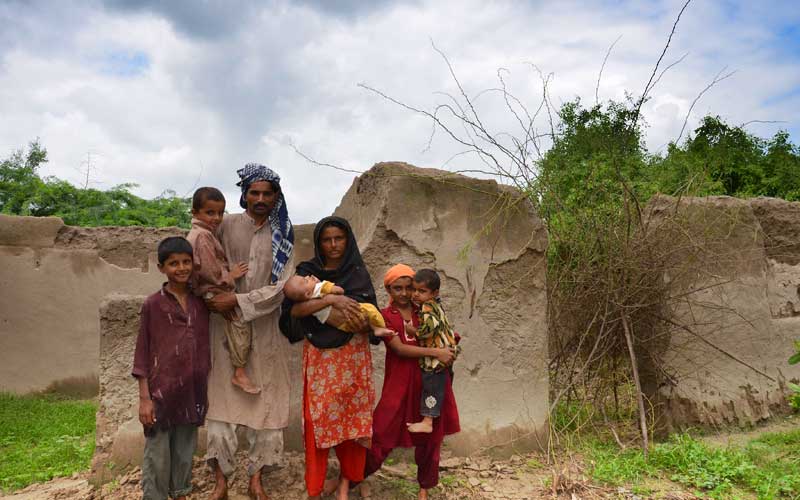 Jannat's neighbor Mohammad Suddhir and his family near their collapsed mud house in Thatta Distritc, Sindh. Photographed by Donna Fernandes, September 2011.

During the country's heavy monsoon rainfall and almost a month ago, twelve houses in Haji Ladho Khaskhelly collapsed. The village has 86 houses with over 200 residents. Jannat's neighbors, Khamoon and Mohammad Suddhir, share her sorrow and relate to her loss since their homes were also damaged. Fortunately, Khamoon was able to secure his second room with a stick which is now on the verge of collapsing.
"We need help to have a place of our own. We have lost more than just our house; we lost things inside our house and our space." Jannat continued to explain that the finances needed to rebuild their house is out of reach for them and that additional expenses are needed to replace their household items.
Jannat, Khamoon, and Mohammad Suddhir have received tents, blankets, and food packages as part of CWS-P/A's distributions in the district. Through this support the families have a little bit of security that they have quality food that will last their families for a month as well as shelter.
While the tents provide temporary roofs to the three families and the food brings a smile on their faces, there is no doubt that the families have larger concerns. These include winter worries, health risks, lost crops, diminished livelihoods, clothing, and more importantly, a stronger home.
Affected families in Sindh still remain in much need of immediate assistance. Despite their remaining challenges and needs, Jannat, Khamoon, and Mohammad Suddhir are fortunate as compared to the thousands of people who have yet to receive any assistance. Support from the international community will not only help individual families and communities but also assist in alleviating some of the pressure on global poverty caused by the increasing number and scale of natural disasters. The affected communities are mostly impoverished, marginalized, and are in need of assistance in order to keep them from falling farther below the poverty line and deeper into food insecurity, debt, and uncertainty.