Introducing Livestock Management in Thatta, Sindh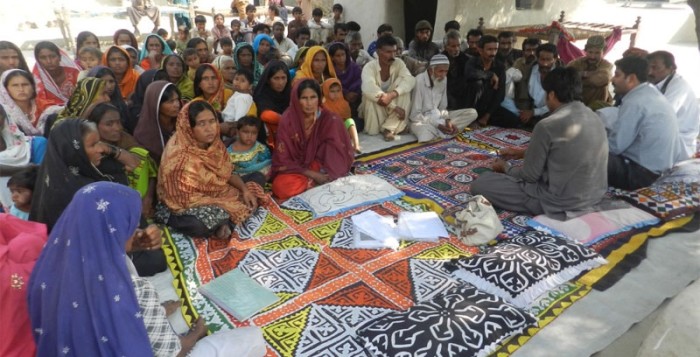 CWS-P/A has been working in Thatta, Sindh ever since the devastating floods of 2010. It is running several projects for the affectees in the area. To strengthen its holistic development approach for the recovering population of Thatta, CWS-P/A has begun an initiative to improve livestock management through the provision of trainings, medical care and shelters.
Some of the projects which have been carried out in Thatta include the provision of shelters to the homeless; organizing health and hygiene sessions for those vulnerable to disease; the first-ever mobile knowledge resource center was introduced; and during the last year, opportunities were created for sustainable development through women's economic empowerment; the provision of accessible maternal and child health care services, and capacity building in disaster risk reduction techniques.
Raising livestock forms an important part of the lives of the residents of Thatta. Livestock are not only used as a means for domestic consumption, but also for income generation. While it is common for almost half of the households to keep domestic animals, only 20 percent of these animals are sheltered. Women in Thatta play a large role in caring for livestock. They have a keen interest in developing their capacities in livestock management however, little opportunity was available to them prior to CWS- P/A intervention. Animals remained vulnerable to diseases, particularly during the monsoon season, decreasing the financial and nutritional benefit to the households that domesticated them.
The project, "Income Generation and Improved Nutrition through Livestock Management" was initiated in the union council of Bijora in Thatta, Sindh, Pakistan during late 2013. The project aims to increase household nutrition and income generation through livestock management initiatives– including trainings on livestock management and vaccination, a de-worming campaign, as well as the provision of water troughs and animal shelters. These activities will work together to increase the overall health of animals in vulnerable villages of Bijora.
During December 2013, the focus was mainly on sharing information with local stakeholders– including target community members and the local government departments– to ensure cooperation throughout the project duration. Community orientations were provided in 56 villages, attended by 1,038 community members (381 men and 657 women). These orientations focused primarily on the project introduction and provided a platform for the community members to discuss key issues of livestock management. Trainees selection for livestock management trainings is in process. A meeting with the Deputy Director of the Livestock Department in Thatta, Sindh was conducted to ensure efficient coordination and support from the government department throughout the project duration.