International Women's Day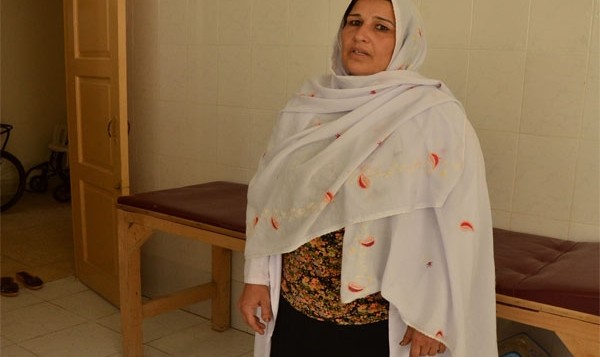 Women like Bakhzarina and others in Afghanistan are benefiting from health education and quality health services. This is made possible due to the efforts of Zuhra and dozens more health staff members and male and female community health workers. Together they are helping women make informed and better choices concerning health for themselves and their families. More significantly, many mothers now have access to health services and maternal health care which is proving to have many positive results.
This International Women's Day, CWS-P/A celebrates the ability of women to better care for themselves and those around them and the health team whose commitment brings change over time.
Assistance and Empowerment in Afghanistan
From Morghai Village, Afghanistan, Bakhzarina is the mother of four children. She describes the village as being far away from CWS-P/A's comprehensive health center plus (CHC+) in Agam District, Nangarhar Province and adds that it is the only available facility with a significant amount of health services. Bakhzarina completes an hour's journey by foot to reach the CHC+.
Bakhzarina said, "I have given birth to my youngest child at this center." Zikhra, her youngest daughter, at the time of the collection of this story was fourteen months old. "I came in my fifth month of pregnancy to the center for antenatal care."
Bakhzarina is being treated for toxoplasmosis and gave birth to Zikhra in her seventh month of pregnancy. She shared that all of her children were born before their expected delivery. "The three deliveries of my children were done at home by an unqualified midwife."
Moreover, Bakhzarina's last delivery was not easy. The delivery was done by CWS-P/A's well-known midwife, Zuhra. In summer, Zuhra received an award for the best provincial midwife of the year. Zuhra performs over fifty deliveries per month and conducts more than two hundred antenatal and over eighty postnatal consultations. In May, her hard work was recognized by the Afghan Midwives Association (AMA).
Zuhra shared, "We created awareness about the existence of the center and women came to see the place when the messages were spread in villages and nearby mosques."
With nearly four years of service with CWS-P/A and a cumulative experience of twenty-seven years, Zuhra has won herself the best midwife award in CWS-P/A for two consecutive years.
Zuhra continues to provide quality health services and awareness to women. Bakhzarina testifies, "We are happy, I brought my cousins for their delivery cases here as well. Our problems are solved and we are helped when we come here."
Bakhzarina has received postnatal care from CWS-P/A's CHC+ in Nangarhar Province and continues to receive medical assistance for her children when they get sick.