Interactive Theater: Addressing Water Scarcity Issues in Sindh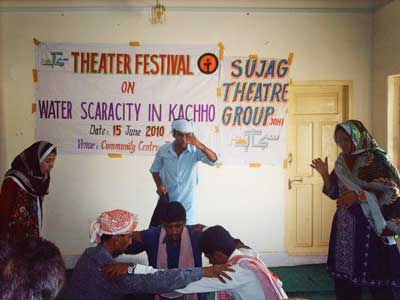 The Johi Kachho area of Taluka, located in district Dadu has been experiencing severe water scarcity due to low levels of rainfall and a gradual decline in the water table. With drying wells and contaminated underground water the residents of the district continue to face many hardships including lower agricultural production and water-related health diseases.
CWS-P/A's Promoting Good Governance along with partner, Sujag Sansar Organization, recently held a theater performance on water scarcity. PGG has continued to work with SSO to build the capacities of performers while simultaneously using interactive theater as an effective tool for advocacy and lobbying.
Demonstrating social issues, the performance highlighted the acute water shortage in Kachho and its various impacts on the local economy, ecosystem, and displacement of communities. Female participants at the session shared that they understand the difficulties of women who travel long distances to collect water.
CWS-P/A and SSO's performance on the issue received print and electronic media attention in Dawn, Daily Pak, and Tameer Sindh and was telecasted via Sindh TV, KTN, Mahran TV, and ARY TV. Much was emphasized through the media on measures for tackling water scarcity as discussed by Mr. Abdul Fatah Dahri, a water expert present at the performance. Also present at the performance was General Secretary PPP, Dost Ali Jesser, of Dadu District who appreciated the initiatives of both CWS-P/A and SSO in bringing forth the issue.