Initiating Dialogue on Religious Minorities in Pakistan's Elections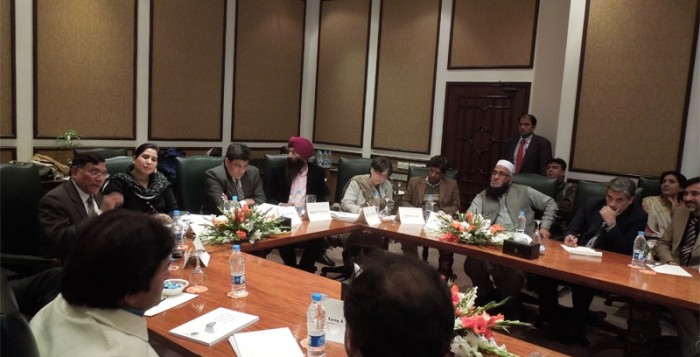 In December 2012, CWS-P/A organized events in Islamabad and Lahore to initiate dialogue and launch its research, Religious Minorities in Pakistan's Elections. At both events, Tahir Mehdi, the lead researcher and author, introduced the findings from the research while guest speakers spoke on issues related to the topic. Individuals from academia, media, civil society, political parties, international nongovernmental organizations, the UN, and embassies participated through attendance and question and answer sessions.
In Islamabad, Christine Amjad Ali, Director Christian Study Centre, described the research, "a tremendously helpful piece of work." Her comment further supports that for several months the research has been used by a national lobbying delegation (NLD) consisting of fourteen members including political, youth, academic, activists, journalists, and development leaders from the Christian, Hindu, and Sikh communities. The NLD raises issues with politicians with the research as tangible evidence for getting political parties to reach out to religious minority voters and to work for party and constitutional reforms. The research clearly outlines where the religious minority voter strength is sufficient to swing elections based on the population demographics and by comparing the figures to the close margins by which recent elections were won.
Some topics which were brought up during the events included the need for non-Muslim women to have political representation and a demand from religious minorities to have a transparent process for electing leaders to represent minority communities in mainstream politics. Another major factor affecting the religious minorities' access to exercise the right to vote involves the national identity card issued through National Database and Registration Authority (NADRA) which is a requirement for voting. A guest speaker at the event in Islamabad, Muhammad Tariq Malik, Chairman NADRA, acknowledged some of the problems faced by religious minorities and mentioned that he personally visited Sikh and Hindu communities and has in-depth knowledge of challenges in the registration process. He also shared that NADRA has taken concrete steps in improving registration for all citizens and that it reaches out to non-Muslims in a number of ways, citing the introduction of mobile registration vans.
With upcoming elections in Pakistan, the research is well-timed and relevant. The need for discussion and change is acknowledged on many levels including from within political parties according to George Clement, a guest speaker at the Islamabad event and a member of the NLD. The research shares information that can raise awareness at many platforms including political, media, and individual citizen levels.
Although the research is a first of its kind, it is only a starting point for discussion and change. During the event in Lahore, I.A. Rehman, a writer and activist, emphasized that a greater need for practical implementation exists than for dialogue and discussion. He encouraged participants to take concrete steps toward eliminating discrimination against minorities in their respective communities. Similarly, Christine Amjad Ali expressed that change often occurs on one level but not on others as she added, "Deeply engrained marginalization still exists." She called upon all Pakistanis as she stated, "It calls for real change in attitude—a recognition that non-Muslim citizens of Pakistan are citizens of Pakistan. It also calls for a change in attitude on the part of non-Muslims in Pakistan to reach out to Muslims and begin to claim their rights."