Increasing Food Access for Flood Affected Families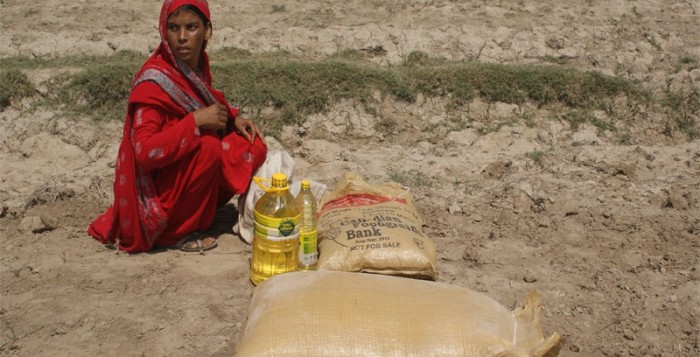 The 2013 monsoon season devastated communities in Sindh. In order to alleviate the immediate food insecurity in affected communities, CWS-P/A initiated emergency food assistance to more than 3,150 families in the districts of Thatta and Jacobabad.
Mai Sabhai is a widow and mother of seven children, who resides in Color Kot Village in Jacobabad. Nearly a year ago, Sabhai's husband died of a heart attack. Sabhai takes care of her children by working in the agricultural fields and is assisted by her twelve year old son in a few related tasks.
In the recent monsoon triggered flooding, Sabhai lost her food supplies, and her crops and house were damaged.
As a widow, facing many hardships and a life without basic necessities including adequate shelter, food, hygiene, and education for her children, Sabhai was identified to receive food assistance. The food package which Sabhai received in mid-September included 90 kilograms of wheat flour, 12 kilograms of pulses, 7 liters of oil, 800 grams of salt, and a packet of match boxes. "I am very happy; this is enough food for my children and me. I had to sell my assets, borrow from my neighbors and relatives. No one helped us for a long time. Now, my children are happy, too, because they do not have to sleep without eating."
Sabhai is among 2,000 families in Jacobabad who will benefit from two more food packages, to be distributed in October and November. The food packages, designed according to Sphere standards and based on local food preferences, help families meet food and nutrition needs. With agricultural livelihoods destroyed and without access to sufficient financial sources to purchase food, this assistance provides families their only access to regular intake of food and nutrition.
CWS-P/A appreciates the generous support from the Canadian Foodgrains Bank through Presbyterian World Service and Development which helped Sabhai and the families in Jacobabad during their difficult time. Appreciation also goes to Christian Aid, DanChurchAid, UMCOR, and World Renew who contributed to the overall 2013 flood response which includes the provision of food, non-food items (NFIs), and health services.