Increasing Accountability through Technical Support and Services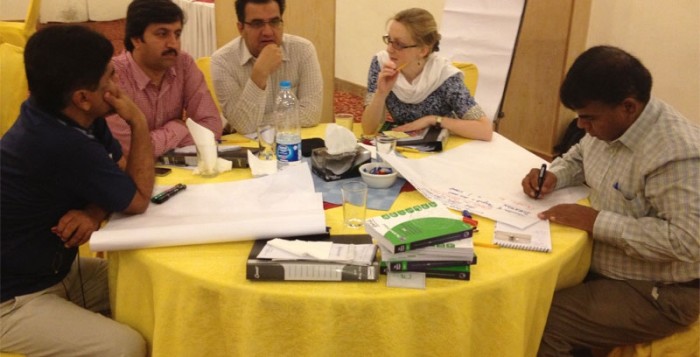 Twenty humanitarian aid workers representing seven NGOs attended the training, "Introduction to & Application of HAP 2010 Standard" in Nathiagali, Murree. The training was technically supported by CWS-P/A with the aim of increasing an understanding on the application of HAP Standard. Participants included partner staff members of Oxfam Novib who developed detailed action plans which incorporated the application of HAP within their organizations and the types of resources required to meet HAP benchmarks. The follow-up to gauge impact of the action plans will be conducted by Oxfam Novib. In May, CWS-P/A will meet with staff of Oxfam Novib and their partners to enquire about additional support. While CWS-P/A will conduct an online impact assessment survey as part of its follow-up after three months.
The organization also extended its technical support in a four-day interactive course, "Humanitarian Charter and Minimum Standards in Humanitarian Response – Sphere Project" in Islamabad. Twenty-five participants from Concern Worldwide working in their specialized roles as project managers, technical specialists, and monitoring and evaluation officers attended the training.
Both trainings included participatory and interactive learning to allow for the practical implementation of quality and accountability standards in project design and monitoring and evaluation. These included facilitated discussions, quizzes, case studies, individual and group work, mind mapping, simulation exercises, and related documentaries among other learning and teaching techniques. Overall the participants expressed that the trainings provided opportunities for productive discussions and learning.
CWS-P/A's Strengthening Humanitarian Assistance Program (SHA) continues offering various trainings, technical support, and quality and accountability resources to humanitarian organizations operating in Pakistan and Afghanistan. In Kabul, Afghanistan, a training, "Using Sphere Minimum Standards in Project Cycle" will take place in early June. More details for this training and upcoming activities can be accessed through http://www.cwspa.org/resources/training-calendar. For specific enquiries and other information relating to quality and accountability, please email shaprograms@cwspa.org.pk