Increasing Accountability for Improved Assistance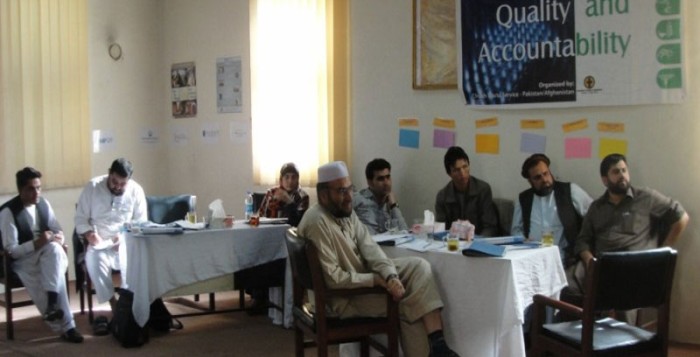 CWS-P/A has continued to promote quality and strengthen accountability in Afghanistan and is currently working to create a quality and accountability forum that would function as a resource hub and learning group. Between 2007 and 2012, eighty organizations benefited from sessions that enhanced quality and accountability with over 270 participants. Recently, CWS-P/A organized mainstreaming activities for its staff members. The training assisted staff members from health and food security projects to apply quality and accountability initiatives to continue to serve communities better and in a dignified manner. As geographic and other context specific issues and challenges were discussed, the participants also visited a project site to assess the quality of assistance against quality and accountability standards.
In early October, CWS-P/A also held a training session for organizations in Afghanistan with twenty participants. While the training focused on building capacities to strengthen humanitarian aid response, CWS-P/A facilitators at the session shared that participants represented working in various departments that ranged from management to technical and field staff. During the training, participants enhanced their knowledge of Sphere (2011) and HAP (2010) Standards.
In mid-October, CWS-P/A continued its work and held two training sessions for health workers in Pakistan. As many as forty-seven staff members representing an agency in Peshawar attended these sessions that focused on the use of Sphere Minimum Standards. Moreover, participants were able to link and apply their learning toward specific health projects.
In the coming month, CWS-P/A's Strengthening Humanitarian Assistance (SHA) Program will conduct training on Complaints Response Mechanism and Sphere Minimum Standards in Islamabad and Hyderabad. More information about these trainings can be accessed through the following link: