In Thatta: Development and Participation Improve Lives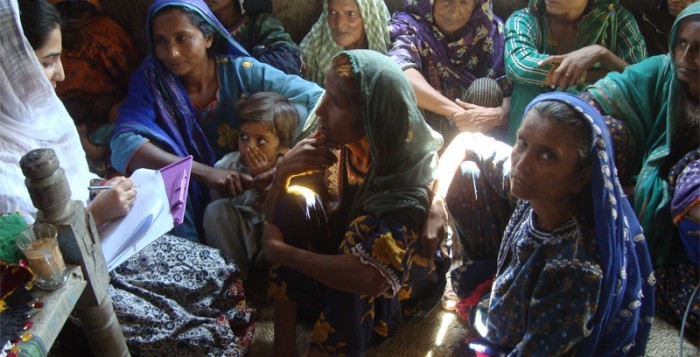 CWS-P/A's Social Development Program (SDP) promotes long-term development and sustainability by empowering communities to take ownership of project interventions. The SDP team is currently working with communities in Thatta District, Sindh Province to implement a Mother and Child Health Center (MCHC) along with a project to alleviate poverty through women's empowerment and livelihood development. The MCHC aims to improve maternal, newborn, and child health among the most poor, disadvantaged, and vulnerable. The women's empowerment project aims to reduce poverty and promote gender equality through economic empowerment, adult literacy, and awareness-raising on sexual and reproductive health and rights and disaster risk reduction. Both projects will take place in Bijora Union Council, Thatta District.
Recently, members of the SDP team travelled to Thatta to undergo interviews and focus group discussions with the people living in the proposed project area. Twelve enumerators were trained in how to conduct a baseline survey, and over the course of five days, they were able to speak individually to 450 people living within 71 of the flood-devastated villages in Bijora. The information collected will be used to assess the projects before their commencement in the coming weeks and also as a benchmark for monitoring and evaluation. The baseline survey revealed the significant need in the target villages for maternal health and women's empowerment. Many of the female community members have no prior information on family planning, HIV & AIDS, and disaster risk reduction.
In Ranta Stop Village, the selected location of the MCHC, a Focus Group Discussion (FGD) was held where 19 local women spoke on behalf of their community. The women expressed gratitude to have had their opinions heard. Through the FGD, women shared that approximately 15 neonatal deaths occurred in the last year while miscarriages were so common that they were unable to provide an annual estimate. Despite these complications, the women were reluctant to visit a doctor as they would have to travel a minimum of three hours to and from the nearest hospital and pay a price that they were unable to afford. Having a MCHC within their village could mean a decrease in the number of complications in pregnancy and potentially in the number of children lost either through miscarriages or neonatal death.
While conducting the baseline survey the SDP team travelled to a village named Haji Arab Lashari and met a woman named Sadori. Sadori was chosen to be the second wife of Asharf to take care of him, his sick wife and their five children. At the young age of 18, Sadori has already experienced four miscarriages in her past three years of marriage. She attributes this to her heavy workload. If given proper training in sexual and reproductive health, Sadori and her husband may gain the knowledge necessary for her to carry and deliver a healthy child.
During the interview and survey process it was evident that the people ofBijora are resilient and ready to take control of their futures. They have suffered greatly from the floods, but their spirits are still high. It is still the positive attitude and dignified relationship with CWS-P/A which will allow the communities to take ownership over the projects being implemented – making them sustainable in the future.