In Sindh: Puppets Bring Important Messages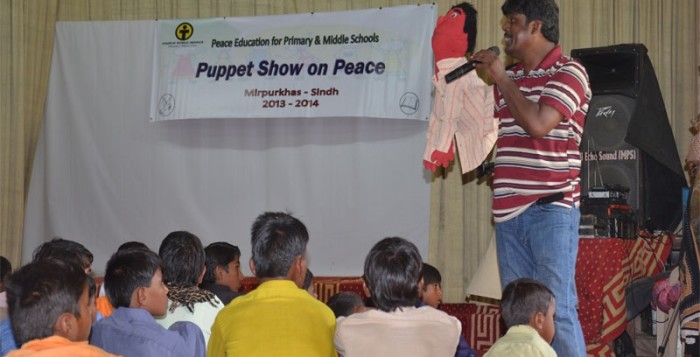 "We must live in love and harmony. We need to help each other, and this is what the puppet show and theater performance also showed us," said Indra, a third grade student from Mirpurkhas. Indra participates in CWS-P/A's project, Peace Education for Primary and Middle Schools. CWS-P/A and its partners including Society for Safe Environment & Welfare of Agrarians in Pakistan (SSEWA-PAK), Primary Education Project (PEP) Hyderabad, Participatory Village Development Program (PVDP), and Kaachi Community Development Association (KCDA) work to promote peace education among primary and middle schools in rural areas of Sindh Province. CWS-P/A's peace manual for teachers and workbook for students has been made part of the curriculum among schools that have incorporated peace education as a course.
Over 100 participants including teachers and students recently attended a puppet show organized in Mirpurkhas. Children also participated in role plays which addressed important messages on social issues. They advocated for education for girls, the inclusion of women in electoral processes, gender equality, and good social and moral values among others.
"The role plays taught us that we should avoid bad habits and work toward progress," said Gul, a fifth grade student.
The animated film, Mulan, was also shown during the event, which students and teachers saw for the first time. Gul as he discussed the animated cartoon shared, "A girl's bravery proves that she can be a vital part of society." They greatly enjoyed the animated film while taking with them a valuable message.
CWS-P/A's peace education has also spread to the far flung areas of Tharparkar. Students from the district visited Mirpurkhas for the first time to participate in the puppet show. Moreover, the theater performance, puppet show, and animated film provided a new experience for the students of Tharparkar. Chunri Lal and Paru Mall, sixth grade students from Tharparkar, expressed, "We must have such programs in Tharparkar to educate other children."