In Jawzjan, Mothers Speak about Loss and Survival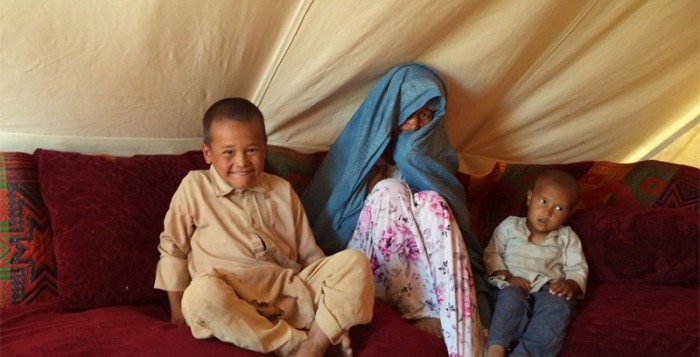 Khurma Bibi lost her husband two years ago due to cancer. Prior to his death, Khurma Bibi's husband provided for the family's basic needs by working as a daily wage laborer. He also supplemented his income by harvesting wheat on a small area of land that he owned in their village, Chosbash Turkmania, which is located in Khawaja Do Koh District, Jawzjan Province. "I faced many problems after his death because I became the only provider for my family. My sons Sharif (7 years) and Saifuddin (4 years) are too young," shared Khurma Bibi.
Khurma Bibi soon adapted and began working from home, using her skills in carpet weaving to earn income. "This was not enough, but I could manage to some extent with it." She explained that she could earn an average of 2,500 afghani (USD 44), which she budgeted well in order to meet her family's daily expenses.
For Khurma Bibi life became tougher when heavy flooding destroyed her home including her machinery and carpet weaving tools. "I was only able to escape with my children. When I looked back at my home and the other homes in my village, they were completely destroyed along with all the agricultural lands. The lands were the only source of income for many of the residents. The year's food supplies as well as household belongings and animals were all under murky waters." With tears in her eyes, Khurma Bibi said, "I lost everything."
Khurma Bibi and her boys have been living in a camp. She shared that her family received minimal assistance which included some food and a tent. With a great feeling of uncertainty, she said, "We have no other option but to live in this camp with rest of the village residents. None of us can return home because everyone has lost everything." Khurma Bibi also worries how she will earn an income after losing everything and not having another source of income.
Another worried mother shared her concerns after floods destroyed everything in Eytaruq Village, Jawzjan. She is particularly concerned about her daughter's health. "It was about 9:00 a.m. I heard sounds from people and everyone was leaving their homes. They wanted to save themselves and their families. I also came out from my home and got my children together as water started to enter my house. I could not find my daughter, Sonia (6 years), so I began to ask for help to find her and was informed by a resident of the village that she was trapped under a wall which had fallen due to the floods. With help from people, we were able to successfully evacuate her. Sonia suffered a neurogenic shock. I later looked for assistance and a doctor referred me to the local hospital. My daughter was admitted for 18 days and was diagnosed with brain hematoma. She was further referred for surgery."
Currently, Sonia remains without treatment because her family cannot afford the treatment or travel costs. Her mother added, "We live under a tent without any assistance. Life is difficult under the hot sun in this summer season and everything we owned has been completely destroyed." Sonia's mother appeals for health assistance that can save her daughter's life.
CWS-P/A's emergency response team reports that the families of Khurma Bibi and Sonia like many other affected families remain without access to clean drinking water. The unhygienic conditions increase the risk of disease. These agrarian communities also face the risk of food insecurity and malnutrition because of the widespread damage of agricultural lands.
Khurma Bibi and Sonia's families are among 290 families in Jawzjan which received NFI packages consisting of two mattresses, two pillows, and two plastic mats. In the coming days, 100 families in Darzab District, Jawzjan will also receive NFIs. Khurma Bibi and other NFI recipients appreciated CWS-P/A and the United Methodist Committee on Relief (UMCOR) for providing these much needed items.
CWS-P/A is distributing NFIs to flood-affected communities in Jawzjan Province with the financial support of UMCOR. Both organizations are members of the ACT Alliance.