In Jacobabad in the Aftermath of Floods 2012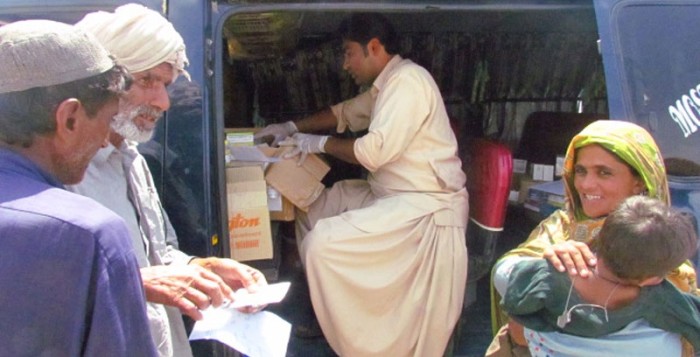 In mid-April, CWS-P/A began providing mobile health services in Mirapur and Allahbad, two union councils in Jacobabad District, Sindh. The services which include health education sessions, consultations, treatments, and laboratory testing are designed to assist approximately 30,000 individuals. The area was severely affected during the 2012 floods, including devastation to the existing health facilities. Presently, most community members cannot afford the costs of reaching the nearest health facility, and these facilities lack the capacity to meet the health needs of the population.
CWS-P/A provides basic preventive and curative health services while it also meets special needs such as those for pregnant women, physically disabled individuals, and individuals with communicable diseases such as tuberculosis. In addition to the 10,224 consultation provided through two mobile health units so far, the most significant contribution is the awareness provided to the communities through health education sessions. The lack of awareness is a leading factor in the increase and prevalence of illnesses. The most common illnesses include skin diseases, malaria, diarrhea, and acute lower respiratory tract infections. By educating the community on the causes and prevention measures, they become empowered to make informed decisions related to good health and hygiene practices.
Affected by floods that had taken away all the assets she owned, Kariman brought two of her grandchildren to the team at the mobile health unit. The children were treated for skin diseases and diarrhea. Kariman says, "This is the first time we received medical consultation in our village."
Kariman is also one of approximately 3,492 community members who participated in a health education session. She discusses, "Water is a big problem and the unavailability safe drinking water has led us to face many health problems. We would try to consider these learning tips to some extent in our routine lives. This is by managing it through limited resources that we have here."
Eight health committees for men and women were also formed as a way to mobilize the community, to ensure the project reaches the most vulnerable community members, and that the overall health requirements are met. The health committees play a vital role in identifying suitable locations for the mobile health services and in the high attendance of community members at the health education sessions. After the project, the health committees retain the responsibility for health promotion and awareness within their communities.
The health services, which are made possible with financial support from World Renew, will continue through August 2013. During this time, CWS-P/A aims to increase health awareness and meet the basic health needs of the community, which commonly increase during the extreme summer heat and forthcoming monsoon season.