In Afghanistan: Fostering Peaceful, Tolerant, and Progressive Communities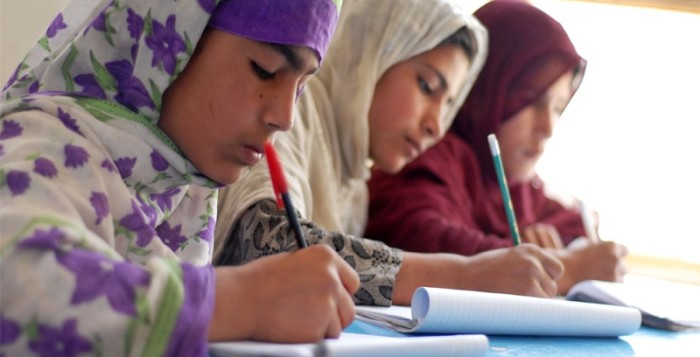 Church World Service-Pakistan/Afghanistan has been working to enhance female literacy rates in Afghanistan through its education projects that focus on increasing attendance rates, raising awareness with parents, enhancing teachers' skills, and much more. The active involvement of parents in nurturing the growth of their children and linking students to schools has been a strategy adopted by the project. CWS-P/A acknowledges that access to quality education helps build communities which are able to understand their rights, roles, and responsibilities.
The project provides students with necessary resources including stationery and textbooks to help lower the cost of education to parents. CWS-P/A acknowledges that it is not only monetary costs which parents incur but also the social costs associated with sending girls to schools. Parents, therefore, choose to send their sons to schools to avoid additional worries posed by security concerns and societal barriers. Overcoming these barriers despite the prevailing challenges will help create better prospects for Afghani girls and have long-term benefits on development. CWS-P/A appreciates the role of willing parents who are changing their mindsets and opting to pursue education for their daughters.
From Farman Khil Girls' School, former headmaster Mohammad Sharif shares, "The number of girls acquiring education has increased in Afghanistan since 2001 after the Taliban was ousted. It is heartening to see the increase in enrollment rates. We boast of a school with girls to boys' ratio of 436 to 457, respectively."
The role and contribution of parents through established parents and teachers committees has been commendable, and Sharif shares, "Three tribes with more than a decade of being in conflict with each other had prevented the mobility of people from one village to another. This resulted in the fact that the children from villages of Karim Aabad and Suboo Khil were not able to attend school in Farman Khil. Our Parent and Teacher Committee established through the project helped resolve the problem by inviting community elders to discuss the disagreement. They were successful in convincing the elders to not let the dispute prevent the education of children who are the community's future. They were also able to present important information on education and gender mainstreaming." Further discussion with Sharif revealed that an increment of 136 students was seen in Farman Khil after the dispute ended.
In both Pakistan and Afghanistan, increased efforts at local and national levels are required to promote girls' enrollment in primary schools as well as completion of secondary schooling to help the two countries achieve greater economic and social development. The gradual process of achieving higher rates of literacy remains full of challenges. These, if removed, pave a smoother road toward fostering peaceful and tolerant communities in which the empowerment of girls and women makes all the difference.