Improving Livelihoods through Capacity Building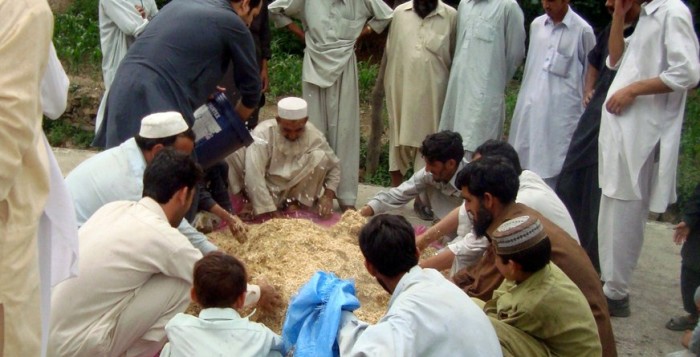 During the year, CWS-P/A distributed livestock to 414 flood affected families in Shangla District, Khyber Pakhtunkhwa and emphasized components of livestock rearing. These included silage making from whole maize plants to understanding feeding details depending on the composition of different recipes and animal breeds. The recovery project in includes a comprehensive and sustainable approach benefiting communities. This is through participatory methods, capacity building, and most importantly upholding the dignity and local customs of communities.
As part of the project, a one day training session on 'Urea Treatment of Wheat Straw' was held in six union councils. The treatment of a small quantity of straw is noted to be cheap and cost-effective for small-scale farmers. At the same time urea treatment is considered as a successful procedure available to improve the digestibility of straw through released ammonia. The procedure requires little in the way of specialized equipment being more than a century old concept. CWS-P/A's training to farmers is part of its efforts to improve fodder as well as the production and marketing of dairy products.
During mid-December through the project's intervention animals were treated and vaccinated against different types of diseases. The District Livestock Department shared that during the monsoon season of 2011, diseases contributed to the loss of over 250 milking animals in Alpuri Tehsil. It also emphasized that all the animals distributed and thoroughly vaccinated through CWS-P/A's project in Shangla District survived.
CWS-P/A's efforts to restore livelihoods are supported by a commitment to improve and build community capacity for longer term sustainable recovery. Following the distribution of livestock, CWS-P/A ensured that relevant training and veterinary services were also provided to the communities. In the coming month the project will complete the remaining distribution of grants amounting to 10,000 rupees (USD 120) for the construction of animal shelters to 114 families.