Improving Life through Diagnosis in Peshawar District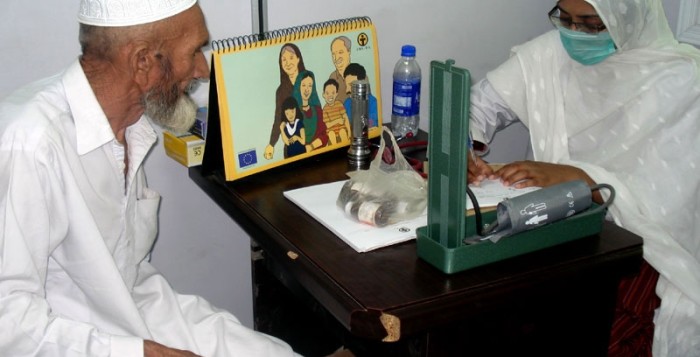 CWS-P/A's efforts in Peshawar District, Khyber Pakhtunkhwa Province included quality food and medical aid to displaced families. In 2012, food supply assisted 3,490 families and health activities ran from late August until January 31, 2013. During this period, a total of 56,211 consultations were done with 3,606 health education sessions. The organization's mobile laboratory unit (MLU) performed over 3,960 lab tests for malaria, typhoid, tuberculosis, diabetes, hepatitis B and C, ultrasound and pregnancy results among others. These services also provided hope to the displaced families living in poor conditions.
The lack of jobs and essential facilities remain among the various concerns that families face. While the situation remains unpredictable and an obstacle to returning home, the basic needs of displaced communities must continue to be addressed. Statistics show that a majority of the IDPs are reluctant to resettle due to loss of land and housing and report insufficient assistance upon return. Durable solutions to the many complexities associated with displacement are most certainly needed.
The plight of displaced families continues and the extremities of weather have compounded their difficulties. Ali Asghar and his family face uncertainty and many challenges. Ali Asghar's house was demolished during a military operation. With a family of seven dependents and much to worry about, Ali Asghar had been avoiding the severe stomach pains that he had been experiencing for more than a month. Upon his arrival at CWS-P/A's health facility in Peshawar District, he was advised to have an ultrasound examination done at the MLU. Ali Asghar was soon diagnosed with stomach ulcer for which he received medicines and follow-up after two weeks. In a recent discussion with health staff, Ali Asghar shared that he was doing much better than before and was able to continue his work as a daily-wage laborer. Ali Asghar expressed that quality health services were needed by many displaced families.