Impact Session: MRKC Reached the Unreachable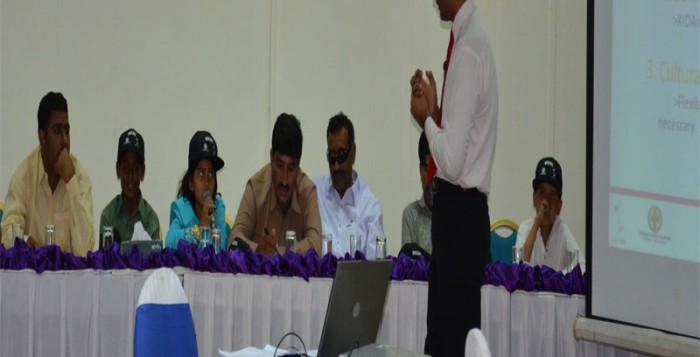 Between January and February 2012, the mobile knowledge resource center (MKRC) visited remote areas in Thatta District, Sindh with an objective of 'Reaching the Unreachable.' The MKRC project team imparted knowledge on disaster risk reduction and helped communities become better prepared for future disasters. By visiting villages and schools, the MKRC enhanced the knowledge of 1,063 individuals.
During an impact study session in mid-April, a panel of community members who benefited from the MKRC activities in Thatta joined the project team to share the achievements and learning from the initiative. The event took place in Karachi where various local and international organizations attended.
A significant finding while working in these remote areas was the presence of local knowledge on staying safe through the use of leaves, bamboo sticks, etc. Through MKRC, the communities were able to learn new techniques using locally available resources. Additional discussion emphasized that despite the security and geographical challenges, the project was able to uphold its objective of 'Reaching the Unreachable.'
Among the community members who shared their experiences of gaining disaster risk reduction knowledge were teachers. They emphasized the increased awareness among the community to stay updated and to listen to news forecasts. Students at the session shared their interest in the simulation models which included the flood, all–hazard village, safer village, cyclone, and earthquake models.
CWS-P/A hopes to reach more communities to empower them with the necessary knowledge to be better prepared to deal with disasters. For a region that experiences yearly monsoons and potential flooding, this is particularly important and needed. At the same time the organization acknowledges the active participation of communities in building their capacities so that they can make informed decisions to save themselves and the lives of others at risk.