Helping Families with Business Opportunities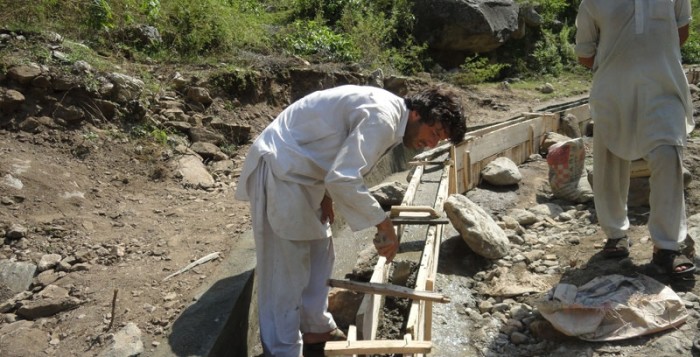 CWS-P/A continues to implement health and livelihood initiatives for disaster and conflict-affected families in Shangla, Pakistan. In October, 50 families in the union councils of Shahpur, Kuzkana, Lilownai, Dehrai, and Shang received cash grants for the revival of livelihoods through small business initiatives.
"CWS-P/A's team selected me as a beneficiary for the cash grant because I am poor and my husband is disabled," said Mehr-un-Nisa from Barkana Village located in union council of Shahpur. She shared, "First they arranged two days of training to educate us about the basics of small business, feasibility, market values, and business plans and identifying opportunities. They then gave us 15,000 rupees (USD 150) as the first installment of a total amount of 25,000 rupees (USD 250)."
Follow-up visits conducted by the project staff revealed that many families opted to set up home-based general stores. Some families invested in goats while the others established shoe and clothing businesses.
"We purchased a sewing machine, scissors, measuring tape, and a few other resources required for tailoring," said Mehr-un-Nisa as she discussed how the first installment was spent.
Mehr-un-Nisa is assisted by two daughters in the home-based tailoring business. "I decided to buy another sewing machine for my other daughter from the second installment of 10,000 rupees (USD 100)."
Providing tailoring services to the community in the surrounding areas of Shahpur, Mehr-un-Nisa and her daughters are bread-winners within the home. The income is essential for Mehr-un-Nisa, her seven children, her husband who is unfit to work, and her disable brother-in-law who resides with them.
Since the commencement of the project in January 2013, other project activities included the distribution of poultry and poultry kits to 620 disaster affected families. The kits comprise of 2 roosters, 23 hens, 2 feeders, 2 drinking bowls, a single cage, 50 kilograms of feed, and 100 doses of disease vaccine. Four hundred families received trainings on kitchen gardening with seasonal vegetable seeds, and 150 families received fruit tree saplings and trainings for the establishment of orchards. Additionally, 400 families benefited from the distribution of cereal crops which included 40 kilograms of maize and 2 bags of organic fertilizer. Through a cash for work scheme across the four union councils, 450 landless and unemployed laborers were provided with earning opportunities.
The livelihood project is made possible with support from the Danish International Development Agency (DANIDA) through DanChurchAid (DCA).