Helping Afghan Communities Reduce Disaster Risks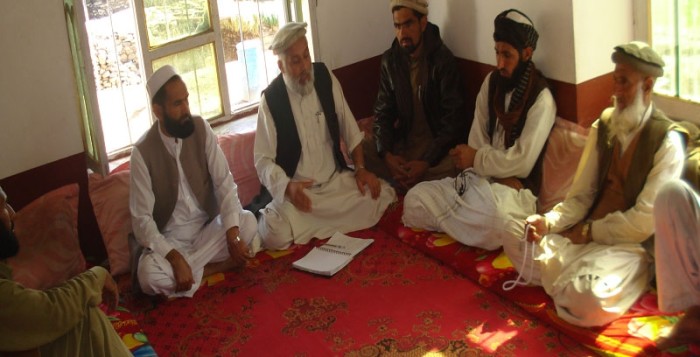 April 2014
Alishang District is a remote area in Laghman Province, Afghanistan. Masamoot is a village within the district. Approximately, seven hundred families reside in stone and mud houses closely built together in the mountainous village. Living conditions are poor and poverty is widespread. While some individuals earn money by selling fire wood or harvesting wheat and corn on small plots of agricultural land, a majority of the residents are unemployed. Food security is constantly threatened because of low crop production, a result of the inadequate irrigation source. Geographically this area is located near a fault line and has been affected by earthquakes, floods, continuous drought, war, and political instability for the past three decades.
Action at the Frontline (AFL) is a disaster risk reduction (DRR) initiative taken by Church World Service-Pakistan/Afghanistan (CWS-P/A) with the support of Global Network for Disaster Risk Reduction (GNDR) in Afghanistan and Pakistan. Through the initiative, communities will be facilitated to reflect, share, and gain an understanding of the risks and root causes of disasters. The aim is to strengthen the capacity of local communities to address disaster-related vulnerabilities and to overcome challenges by working in partnerships at the grass-root level.
In Afghanistan, the communities in Alishang are familiar with CWS-P/A due to its health and food security projects in the district. CWS-P/A selected this area to pilot AFL because of the risks and history of natural disasters and the willingness of the communities to be part of learning and action process for DRR as well as take ownership for local level DRR actions.
During April 2014, three introductory meetings were held with the shuras (council) and community members of sub-villages of Masamoot Village. The purpose for these initial meetings was to familiarize and orient the community about the concept of AFL and to ensure their commitment and support. CWS-P/A facilitated shura members and community elders to form village committees; some members of the newly formed village committees are also members of health committees organized as part of CWS-P/A's health project. Participation of women will also be ensured by engaging female community health workers and the local female health shura.
The selected committees will further help in the selection of volunteers from their respective villages and will ensure regular participation in DRR activities, trainings, and meetings with government officials and other stakeholders. The committees will prepare disaster risk profiles of their respective area with a social and hazard map in order to identify public places such as schools, clinics, mosques, roads, graveyards, hand-pumps, streams and rivers, etc. The hazard map will help to identify the potential hazard points to which the villages are exposed to. CWS-P/A will help them to identify and analyze core disaster-related problems, risks, and issues. Furthermore, the committees will be facilitated to do stakeholder analysis, identify, and prioritize actions to be taken at local and regional level to address the identified risks. An action plan will be developed based on the proposed solutions; community members will also identify resources so they can independently reduce the risk level. If a disaster occurs, the community should be able to inform local authorities if external assistance is required.
In continuation of this process a memorandum of understanding (MOU) will be signed with the committee members to clarify their roles, responsibilities, and expectations. They are also committed to active participation in upcoming training opportunities. After completing the first round of DRR activities by June 2014, CWS-P/A will share the outcomes of this initiative with Provincial Governor, Provincial Directorate, and Afghanistan National Disaster Management Authority (ANDMA). This initiative will be further replicated in other areas of Afghanistan to familiarize communities with DRR.