Hakeeman: Running a Shop to Provide for My Family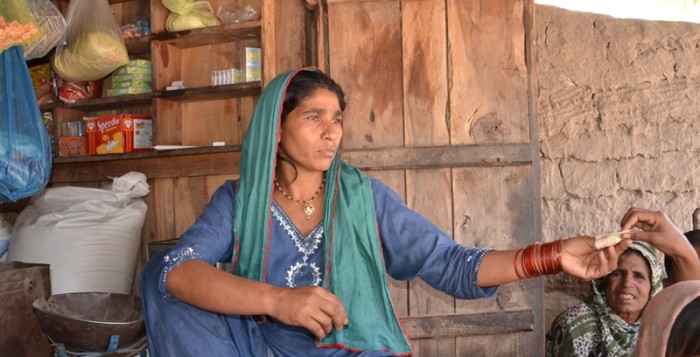 For five years, Hakeeman has been looking after her family on her own, as her husband is too ill to work. At times, she has been forced to send her children out to work in the fields. After the 2010 floods they lost everything, including their small shop and all its stock. Now, thanks to a cash grant from CWS-P/A for 25,000 rupees, she has restocked her shop. Her children no longer have to work, and she has hopes that they will have a better life than her own.
Hakeeman is thirty five years old and has five sons aged ten, eight, six, four, and three and one daughter age five.
Before the floods
"I was born in this village. My husband is unwell, and because of this, he is unable to work. He has hepatitis C and is diabetic. He used to run a shop, and I used to help him, but it's been five years since he's been able to do this. I have been looking after the shop for all this time. I also did stitching and tailoring for women in the village, and I would get a little money from this.
"I was sad when I learnt that my husband was ill. There was no support from relatives to depend on, so I just had to get on and deal with the situation.
"By managing the shop, I earned an income, but it wasn't enough, especially if the children got ill. Plus, of course, we couldn't afford the medication for my husband.
"I was running the house using the funds from the shop. Sometimes when there was less money coming in from the shop, the children had to work as well. The children would work harvesting in the fields, watering the crops, or cutting and selling wood in the market.
"I was forced to make this decision about sending the children to work because we were only eating one meal a day. I had no other choice – as a mother I felt bad, but I had to make this choice."
The floods
"I had no idea that the floods were approaching; we had no information about them. When I saw the water level rise I was very concerned. What would happen? How would we cope if something happened to the house? I knew that large scale damage was coming.
"We had no time to take anything with us – the water was rising in the evening and by the time night fell the place was flooded. The water rose to about three feet.
"We placed beds on top of beds for children to sit on, to keep them safe and dry.
"So when we saw the level of the water we had to escape with the assistance of a boat. There are some people in the town who have boats – fishermen. They came and helped us. The cost of escaping for the family was Rs 1,000 (USD 11.65).
"The boats came right up to the house, and my family helped move my husband onto the boat.
"On the journey we were devastated to see the water was all around. The damage was not just for our family, but the whole country was facing devastation.
"It took two to three hours to reach Agra (the nearest town). We lived for two months away from home. We took shelter under a tree and placed our mats on the ground to rest on.
"We received nonfood items and two rounds of food distribution.
"The children also started to get sick so this added to our concerns. They had rashes and skin diseases as well as malaria. In Agra there were some camps, where they got some medicines and treatment."
Coming home
"Our relatives used to keep coming and checking the house, as the water levels started to recede. Eventually we decided it was okay to come back.
"When we arrived back, there were no utensils, no clothing, nothing. The walls of the house were weak because of the water damage. Now, they've put some mud on the walls to patch them up and strengthen them.
"I was sad when I returned home. I cried. We were already going through a difficult time so this situation was overwhelming for me."
Receiving long-term support
"I was selected by PVDP (CWS-P/A's local partner) because widows were given priority, and my husband is unable to work. The committee helped select those most in need.
"I know I am able to run a shop, so this is why I chose to receive a cash grant. I received 25,000 rupees. We also sold the donkey cart for 10,000 rupees, and made a new shop out of wood. This cost 8,000 rupees to make.
"The 25,000 rupees were used to buy supplies for the shop – sugar, spices, tea, rice, oil, crisps, and sweets (for the children). We also bought soap and washing powder, and biscuits and pickles. We go to Agra to buy supplies, usually about every five or six days.
"We are now able to manage to buy our food and meet most household expenses, but not medicines.
"Before the floods, the children were working on the land to help. But now, through this help, I don't have to send the children out to work. They can stay in the home and I am pleased about this (three of her children attend the free Child Friendly Space school run by PVDP)."
On faith and hope
"I was praying for better conditions during the flood. I was praying to God that the floods would end. But at least during the floods I was able to pray as I should, five times a day.
"I don't have many hopes for myself, but I do have hopes for my children, that they would get an education. I hope they have a future – a better life than me. If they're educated, they can seek a profession, unlike me. I hope they can make a better life for themselves.
"God grant justice to those who have rightly helped us."