Good Health – a state of Physical, Mental & Social Well-Being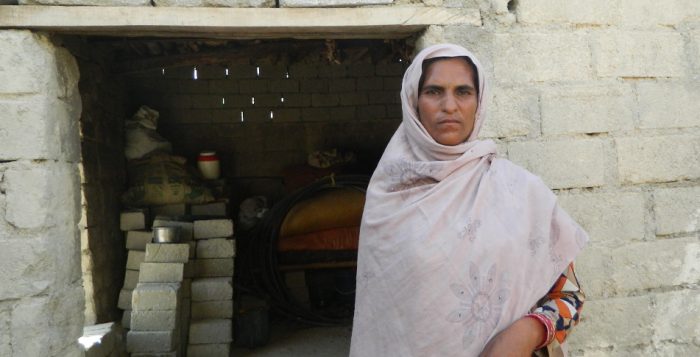 World Health Day provides an opportunity for the global community to come together to focus on interventions and actions that lead to improving human health. Every year an important issue is highlighted. This year WHO says "Depression: Let's Talk". Community World Service Asia has been working in Pakistan and Afghanistan's health sector, providing assistance to the poor and marginalized since 1993. To bring healthcare to the poorest of the poor, Community World Service Asia has become an organization that empowers people and communities to eliminate injustices through integrated efforts in health, education and development. We have provided basic healthcare services that have directly facilitated 99,709 patients. Today in celebration of World Health Day 2017, we tell you a moving story of one of these patients and her recovery from a common, yet most under-estimated, mental illness- depression.
Abida, daughter of Gulajan, is a 35 years old widow from Shamoram village of Alishang district in Laghman Province.
"I am a widow and mother of five children. My eldest daughter is just 17 years old. My husband was a policeman and the sole bread earner for our family. He did not earn much but we were a happily bonded family."
Abida gets upset even today as she mentions the ill-fated day that turned her blissful life around.
"I was baking bread when I heard a crowd of people moaning outside our house. Some men were carrying a chaarpaai (wooden bed) with a body lying on it draped in a white cloth. It was my husband, Shaihdullah! I fainted instantly when I saw him lying lifeless."
Her husband died while he was at work where he was killed in a terrorist attack.
Abida now lives with her father-in-law who is an aged man and unable to support their family.
"I lost quite a lot that day; my husband, caregiver, father to my children, a supporting son of an elderly father and the only income bearer of the household."
Abida's father provided financial support for healthcare expenses and with purchasing clothes for her children occasionally.
"After my husband's loss, I was terribly broken. I use to have body pains and felt weak most of the times. I used to spend hours thinking about the future of my children without the support of their father. I was unable to sleep as well which was deteriorating my health."
Abida's father-in-law had to take her to Gamba clinic which was at an hour's distance from their hometown. This was time consuming and expensive.
"The doctors there prescribed painkillers but it was only giving me short term relief. I could not consume painkillers at all times as it was not curing my problem. I was trying very hard to adjust but every passing day was becoming difficult to survive for me."
"One day, I was very depressed and could not stop crying. My brother then took me to the doctor. After explaining my condition to him, he prescribed some medicines for stress relief and advised me to visit him weekly. But due to financial constraints, I was unable to visit the doctor regularly as it was expensive and I had to travel a long distance for which I needed my father or brother to accompany me. I did not want to worry them again and again as they had their own responsibilities to handle."
Abida then found out about the MNCH established by Community World Service Asia in Shamoram village. This was quite a relief for her.  She hesitated to discuss her issue when she initially visited the MNCH.
"The female staff at the MNCH was very friendly. Looking at my condition, the midwife knew something was wrong and that I was not telling the whole story."
Abida shared her troubled story and the anxiety she was experiencing. She elaborated on how her bad health was effecting her children and family.
"The midwives listened to me patiently as I let my heart out to them. The doctor then prescribed stress relief medicines and advised to visit the MNCH on a weekly basis."
Abida visited the doctor as prescribed as the MNCH was not far and easily accessible. She did not need her brother or father in law to accompany her to make these visits and regularly went on her own.
"The women staff at the MNCH provided good counselling. I continued my treatment for almost seven months on a regular basis as suggested. Now I can confidently say that I am a healthy mother taking care of my children and father-in-law. Bad times come and go; we have to stay strong for the people who are with us today."
Since her treatment, Abida had visited the MNCH for health assistance for her children. Abida, along with many other community members of Laghman villages have benefitted from the services provided at the health centers established in Pakistan and Afghanistan. Rural communities residing in remote areas are vulnerable and unable to avail healthcare services easily. The establishment of the health centers in remote areas are providing basic healthcare facilities which have turned many lives around for the better.