Food Security Threatened in Flood-affected Kashmir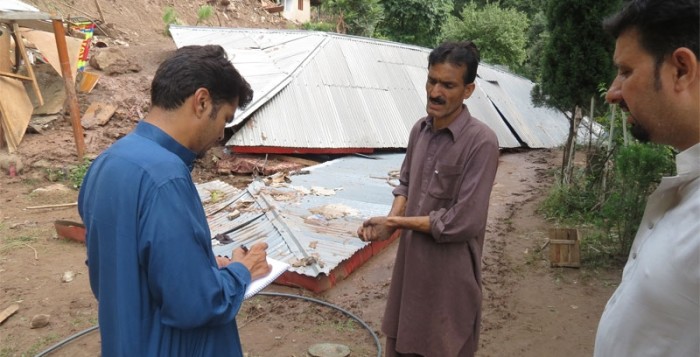 Muhammad Ilyas recalls a happy life with his family and relatives in the neighborhood of Kals Noor Galla, Bagh District. He along with other community members owned apple orchards and grew maize in summer and wheat in winter each year. The community in Kals Noor Galla expressed that they felt safe as they had not experienced disasters since the earthquake in 2005. They shared they had rebuilt their houses following guidelines to ensure that the construction was earthquake resistant but were unaware of how to cope with the unexpected landslide that swept away their homes and lands.
On the night of September 5, boulders, silt, and mud entered from the rear side of the settlement smashing houses in their path.
A total of twenty-five houses, including Ilyas', were completely destroyed while other houses were partially damaged. Ilyas shared, "We not only lost our houses and household belongings but have also lost agricultural land and crops of maize and apple trees." The water supply scheme has also been severally damaged which has made access to clean drinking water a challenge for the community.
Ilyas and the affected community now reside with relatives at a nearby village.
Aside from food from their relatives, no support has reached the affected community. They believe this will not last long as food sources turn scarce.
Once the rain stopped, Ilyas and other community members made their way back to Kals Noor Galla to recover lost household items and belongings from their devastated homes. Ilyas found only a few clothes and utensils which were covered in silt.
"I do not have a plan on how I will be able to recover. All of our land including farming and our settlement has come under the massive landslide, and we do not have any other land to live on. I have nothing else left to lose," said Ilyas,