Food, Livelihood, and Capacity Building in 2011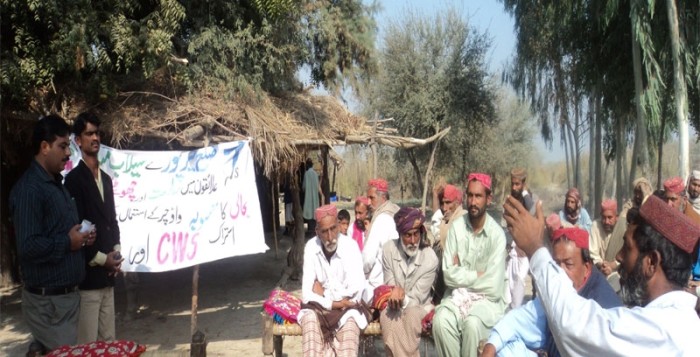 When serving communities affected by disaster, CWS-P/A bases its relief and recovery initiatives upon community needs. These needs vary in different affected regions for various reasons including severity of destruction, loss of property, and pre-existing social and economic challenges. In some areas, many organizations are prepared to offer relief goods and services, but other areas see very few organizations that have the capacity to respond. For this reason, no single division between the relief and recovery phases exists. For the floods, the transition began several months ago, and the first two months of 2011 was the height of CWS-P/A's transition with overlapping initiatives for relief and recovery with respect to food, livelihood, and capacity building.
CWS-P/A provided thousands of tons of food since the start of the flood emergency. Food packages contained culturally preferred items such as wheat flour, rice, pulses, oil, sugar, and tea and were designed to last one month for an average-sized family. Food insecurity and malnutrition were issues before the floods began, but destruction of agricultural lands, an entire season's harvest, and livestock worsened the situation with increased food shortages, rising food prices, and no resources to purchase food. During the first two months of 2011, CWS-P/A assisted families in Dera Ismail Khan and Swat in Khyber Pakhtunkhwa and Thatta in Sindh by distributing four thousand five hundred food packages amounting to approximately six hundred thirty tons of food. Simultaneously, in Swat under two recovery initiatives, one thousand six hundred beneficiaries were selected for cash for work, an additional one thousand six hundred for an agricultural inputs voucher scheme, and eighty-five for cash grants. Cash for work projects include rehabilitation of irrigation channels, repair of field to market roads, and construction of walls for protecting lands from future flooding. In March, farmers will be able to purchase necessary agricultural inputs using the voucher schemes on a schedule market day. In January, a comparable food security initiative was completed in Khairpur, Sindh with two thousand five hundred farmers benefiting from the voucher scheme and two hundred individuals, nearly fifty percent of whom were women, from cash grants. The cash grants are meant for shopkeepers who have lost their shops during the floods.
While addressing food insecurity through food package distribution and agricultural rehabilitation through voucher schemes, CWS-P/A equally emphasizes the importance of restoring other forms of livelihood. In addition to cash for work initiatives directly linked to the food security projects, CWS-P/A is building capacity of local residents in Khairpur and Thatta in trades including carpentry, masonry, electrical work, plumbing, and welding. After completing courses, the newly trained graduates will receive certification and assistance in job placement. Since the start of the year, CWS-P/A identified the first class of trainees, instructors, and community mobilizers; the first round of classes at the training center in Khairpur will start on March 1. This initiative is a replica of previous CWS-P/A initiatives done in Khyber Pakhtunkhwa following the 2005 earthquake; such initiatives directly help communities by equipping residents with skills for life and income earning opportunities that will help rebuild damaged infrastructure. Aside from certification and assistance with job placement, graduates will receive tool kits containing necessary items for them to work in their specialized trades. CWS-P/A plans to link this program to its upcoming shelter intervention.
CWS-P/A also recognizes the importance of including women in rehabilitation and capacity building initiatives. When identified as the most vulnerable community members, women are included in the voucher scheme and cash grants under the aforementioned food security initiatives. CWS-P/A also had an existing project, Expanded Dairy Development Program, in Khyber Pakhtunkhwa which was assisting female-headed households since rehabilitation from the 2005 earthquake. Some of the beneficiaries from the previous phase of the project were also affected during the 2010 floods. Now in its third phase, the project will help one thousand five hundred earthquake and flood-affected female-headed households through capacity building in livestock management, dairy by-product development, and marketing for income generation.
CWS-P/A works closely with communities for planning and implementing its early recovery and rehabilitation initiatives. Participation directly involves community members through the development of village organizations, separate for both men and women, which assist in identifying the most vulnerable community members for initiatives and identification of activities such as cash for work projects. Community participation is essential for successful project implementation and sustainability and is part of CWS-P/A's overall commitment to quality and accountability. Based on past experience with similar initiatives for rehabilitation following emergencies and catered to specific, current needs of the most vulnerable communities, CWS-P/A's flood rehabilitation initiatives will bring significant change to individual families and entire communities so that the road to recovery is shorter and immediate improvement in food security and income generation occurs.