Food and Work: Helping Farmers Recover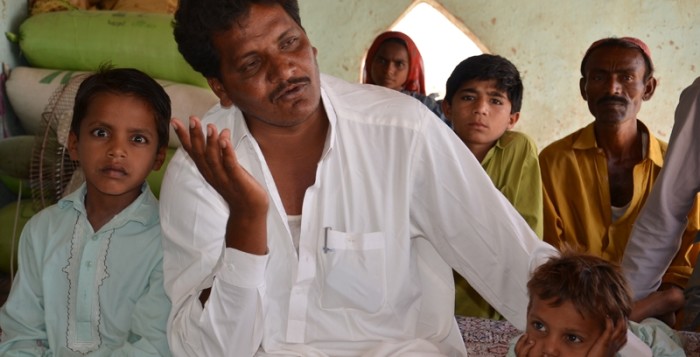 BEGAN SHAH MACHINE VILLAGE, KHAIRPUR DISTRICT, SINDH: From the province of Sindh, A thirty-four year old farmer, Paro Mal, resides with his wife, four sons, and one daughter. Paro along with his family members moved to Khairpur from Umerkot approximately ten years ago for better work and living conditions.  "During my stay here, there had been floods thrice before, and I had no previous losses.  I did not expect floods of this kind. We were terrified and surprised and we did not have enough time to move after I got to know about the floods through radio messages," shared Paro.
Paro's biggest lost was his entire cotton crop which was ready for harvesting. He shared that each acre would bring a return of Rs. 30,000 – Rs. 35,000 (US $ 349 – US $ 407) on the total eight acres of land that he worked. The deal between Paro and his landlord results in a quarter of the profits for himself which still remains subject to the nature of the crop. "Many farmers in the village are indebted to landlords, I would like land of my own but that depends on God. One acre of land costs as much as Rs. 250,000 (US $ 2,907) and that would take me between eight to nine years to make this kind of money. At present, my earrings are just enough to feed all my family members," shared Paro.
Like many other flood affected people Paro moved to the community camp near his home when the disaster hit the district. "For about a month and a half we resided at the camp, buying food was difficult, sleeping was difficult, and living without electricity was difficult as well," shared Paro.  He recalled that each trip to the market to buy food via boat had cost Rs. 1,500 (US $ 17.4) which was shared between four to five community members.  Through Church World Service-Pakistan/Afghanistan's flood response Paro received food items, nonfood items, and medical assistance for his children through the mobile health unit.
When the organization began rehabilitation initiatives, Paro was among 2,500 flood survivors in the province to benefit from the agricultural input distribution through voucher scheme.  In early January, Paro with others selected from his village (forming a group of fifty) traveled to the market to exchange the vouchers for agricultural inputs. Paro selected seeds, sickle, spade, and some fertilizer worth Rs. 15,000 (US $ 174).
With the assistance Paro grew wheat and shared, "Our yield would have been much less without this support, and I really required fertilizer at that time."  At present, Paro cultivates two acres more land than before. As president of the village management committee and on behalf of community members, he said, "Conditions were better before the floods, and by the grace of God it will get better slowly and gradually."