Food and Health in Jacobabad District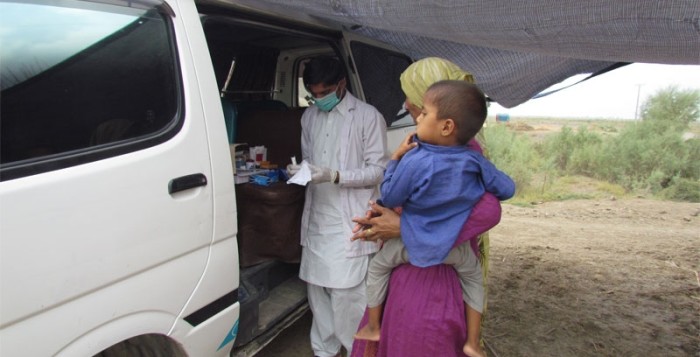 CWS-P/A's work in Jacobabad District, Sindh Province continues to help families with food and livelihoods restoration and the provision of quality health care as they recover from the 2012 floods. Currently facing the impact from the 2013 monsoon rains, the families have added security that the health services and food supplies are accessible. A media source reported that Jacobabad District experienced the maximum amount of 153 millimeters of rainfall on Sunday, August 4. The same source reported that some stranded community members arrived at safer places using boats.
Since the health activities began in April 2013, more than 27,000 health consultations were provided in the district. Nearly 1,200 antenatal and postnatal care services benefited pregnant women, and a total of 6,972 community members received essential live-saving information through 272 health awareness sessions.
The health activities also included the distribution of approximately 430 delivery kits and 770 hygiene kits. More than 2,580 laboratory test were done for community members through the mobile laboratory unit.
Simultaneously, CWS-P/A is also assisting 4,000 families with food supplies until September. The food packages benefit families in the same union councils of Miranpur and Allahabad where families also access the health services. Each food package contains wheat flour, cooking oil, pulses, salt, and matchboxes. A food package for one month is sufficient for a family of six to seven members and is based on Sphere standards. Along with the initial food package distribution, families received 20 kilograms of rice seeds to help in the restoration of their agricultural-based livelihoods. The initiative aims to support food security for farming families while providing resources for them to experience a productive harvesting season.
Preparations are underway for the next round of food package distributions. CWS-P/A has also built community capacity for improved agricultural management through training sessions and has also introduced and is implementing a complaints response mechanism within the communities. In view of the current flood situation in Jacobabad District, CWS-P/A's health services continue until September. The organization will distribute shelter kits and non-food items to 306 flood-affected families who remain without shelter and household necessities. An additional 2,000 families will also benefit from food packages over the next three months in the union councils of Qadirpur and Ahmedpur.
CWS-P/A appreciates the financial contributions from the Canadian Foodgrains Bank (CFGB) through Presbyterian World Service and Development (PWS&D) and World Renew which make the food and health interventions in Jacobabad District possible.