Finding a voice – A new Shumaila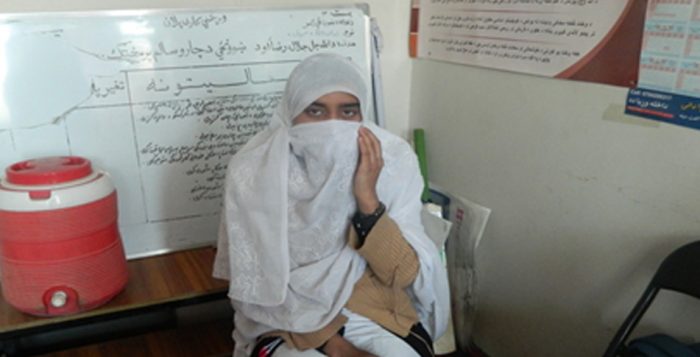 Shumaila, a 16 year old student of a Girls High School, Behsood district of Nangarhar Province, was a timid young girl dreaming to one day have the confidence to speak before a crowd, and be an all-rounder at school.
"One day, the principal of our school came to our class and announced that a summer camp on civic education is going to be held at school. I immediately raised my hand and showed my interest to attend the workshop. My teachers were surprised to see my reaction,"
narrated a bashful Shumaila.
"This four day camp was a lifetime changing experience for me. I learnt topics which we as students or even teachers had never learnt in school, such as human rights, child rights, state governance and democracy. Most importantly, the session on gender was very interesting and new to us."
Shumaila  recalled how she enjoyed the various activities conducted at the camp; all were participatory and interactive.
"There was a lot of group work, role plays, art and paintings, energizers, and to top it all, a mock election!"
exclaimed Shumaila with excitement beaming in her eyes.
During the session on leadership skills, students were taught practical lessons on effective speech, and addressing audiences of different kinds. The mock election sessions were a simulation of the Afghan electoral process where all the students participated and role played.   Students at the session were asked to nominate three students for the candidacy of President, who were then asked to formulate their individual support groups who would canvass in favor of their respective leaders. Speeches were delivered, slogans were raised, and posters were displayed in the school; it was all a series of fun and learning based activities which further motivated the participants' interest.
"It was during that election campaign that I acquired the skills and got the confidence required to speak and deliver speeches in public. The most important and memorable moment of my life was when the result of the elections was announced, and I was declared the winner. I felt as if I had been elected as the president of Afghanistan. Tears came out of my eyes with excitement and happiness. The summer camp changed my personality and I came out as an entirely different person. I became confident and developed knowledge on politics, rights of children and women. I wish to take part in real politics of my country some day, for the well being of my people and the development of Afghanistan,"
proclaimed Shumaila.
After participating in the summer camp on civic education, Shumaila started participating in all school  activities.
"There is a Shura of women in our community who mediate activities and conduct meetings between the school and students of the community. Previously I had not participated in meetings of the Shura, but since the elections I have started to participate primarily to raise issues faced by my friends and work fellows."
 Shumaila put forward demands of hiring more professional and experienced teachers at school, and that the appeal was practically implemented.
"It was an achievement for the well-being of the students of our school. Following these changes, students participated in an interschool speech competition, and three of us won trophies as well."
A graduation ceremony was conducted at the University of Nangarhar, which was attended by a number of teachers, students and government officials from the provincial Education department.
"I was invited to speak on the topic of importance of education. My speech was highly appreciated to the extent that the Director of Education awarded me with valuable gifts and encouraged me to continue my struggle for my peers."