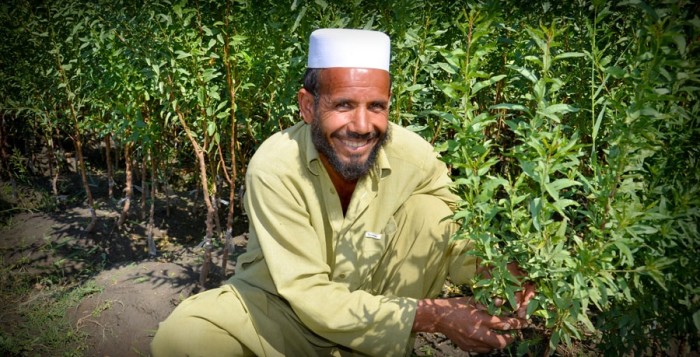 It is World Food Day once again. A day that, no matter who you are or where you live, is relevant to you. Everyone needs food. Some may have a lot of it while others struggle day after day to survive on a diet that barely meets their nutritional needs. One country where the latter rings true is Afghanistan­­ – a country where an estimated one third of the population is food insecure[1].
In recent history Afghanistan has faced more than its fair share of challenges when it comes to agricultural food production. Decades of conflict and drought have robbed the land and the people of much of its food supply. More than half of Afghanistan's agricultural land and livestock were destroyed in conflict and the arable land has suffered severe degradation due to uncontrolled grazing, intrusion, and illegal logging[2]. This year over 447,000 people are estimated to be internally displaced – bringing families away from the land that once nourished them[3]. In addition to these issues that challenge food security within Afghanistan daily, climate change is a topic that can no longer be ignored.
Of all Asian countries, Afghanistan is estimated to be one of the most threatened by climate change in the years to come[4]. However, the effects of climate change on Afghanistan are evident even today. Abdul Ghani, a farmer from Bolan Village, shares "Water conditions have not improved. Over the last three years, water supply has been less[5]…" Increasing temperatures along with decreasing levels of precipitation over the past few decades has caused droughts, floods, desertification, and a loss of biodiversity[6]. The people of Afghanistan have had to adapt to both the changes in their climate and political unrest simultaneously. This would be a difficult task for any country – especially one where society is highly reliant on the agricultural sector for its survival.
Over 78% of Afghans work in the agricultural sector – even more so within the province of Laghman, where 99% of people live in rural areas[7]. The main crops produced in the province are food grains (wheat, rice, and corn), vegetables, and fruits. Like many other parts of the country, Laghman has been stricken by drought, war, and poverty. Located in Eastern Afghanistan, the province was a victim to Taliban militants and miscreants' activity leading to safety issues that have stunted development efforts. This has left the population in desperate need of positive socio-economic influences.
Church World Service – Pakistan/Afghanistan (CWS-P/A) began a food security project in Laghman in the summer of 2011. It aims to increase food security through agriculture, horticulture, livestock, and vocational training initiatives. It includes the establishment of nurseries and orchards as well as the distribution of goats and poultry. Abdul Ghani is one of the farmers who receives orchard, nursery, and technical training through the project, which will help him and others improve access to food and nutrition. CWS-P/A also works to distribute agricultural inputs to the most vulnerable people as a means of reviving the agricultural sector within four districts of Laghman. This includes the distribution of certified seeds which ensure a harvest greater than that of the previously used seeds. Mohmmad Tahir, a farmer from Safokhel Village shares, "Through the improved variety of wheat seeds I had enough wheat production for my family[8]." Mohammad could not afford to purchase the improved variety of seeds, which forced him to previously use the local variety which did not produce enough yield to feed his family.
It is small changes, such as a new type of wheat seed, that can help a family adapt to the changes in the climate around them. But changes like this cannot come without a better understanding and awareness of climate change both in the field and around the globe. One of the United Nation's main objectives for World Food Day is to heighten public awareness of world hunger, and without proper adaptation strategies, this problem may only get worse. Farmers must begin discussing and implementing new strategies to ensure their food security in the future. Whether it is alternative water sources for irrigation, improved seeds, awareness on environmental sustainability, or agricultural cooperatives—this year's theme for World Food Day—tomorrow's food supply and the elimination of hunger depend highly on innovative and responsible actions taken today. Organizations like CWS-P/A are working to get these dialogues started in Afghanistan and other developing countries around the world. As for the rest of us, as we become more aware of our failing food system, we can begin to make changes in our actions, partner together with others to challenge inequalities, raise awareness, and demand sustainable solutions to food security for those that need it most.
---
[1]
Valeria Davanzo, Social Well Being Report: Afghanistan,
Civil-Military Fusion Centre,
1 No. 10 (2010)
[2]
Abdiani Saidajan , Effects of War on Biodiversity and Sustainable Agricultural Development in Afghanistan,
Journal of Developments and Sustainable Agriculture,
7 No. 9-13 (2012)
[3]
CIA World Factbook,
Afghanistan, (2012)
[4]
Catherine Dominguez, Asia: Climate Change Putting Asia's Food Security at Risk,
EcoSeed,
(2012)
[5]
Story collected by Donna Fernandes in Laghman, Afghanistan on October 10, 2012
[6]
Rozbih Mihran, Rural
Community Vulnerability to Food Security Impacts of Climate Change
, (2012)
[7]
CIA World Factbook,
Afghanistan,
(2012)
[8]
Story collected by Donna Fernandes in Laghman Afghanistan on October 10, 2012