Expanding HIV&AIDS Awareness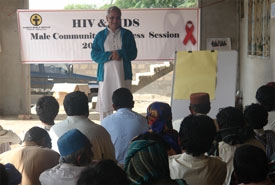 Between early and mid March, CWS-P/A held a three-day youth camp in Narowal District, Punjab and a one-day awareness session on HIV&AIDS in Thatta District, Sindh. A total of 83 participants attended the camp and adolescent session which took place in both districts for the first time.
A participatory approach was used to raise awareness as participants expressed their views of HIV&AIDS. During the youth camp, participants also developed posters and art work to express ideas about the topic as they enhanced their knowledge.
In Pakistan, cultural and social barriers hamper awareness and discussions on topics such as HIV&AIDS. CWS-P/A believes that knowledge and information sharing helps to reduce prevalence. "Awareness is our right, but we are restricted to know what our elders tell us without any reasoning. Here, I also got to know about gender roles in our male dominating culture," shared a male participant in Thatta.
In 2012, a baseline survey conducted by CWS-P/A revealed that knowledge of HIV&AIDS was low in Thatta. Subsequently, the organization incorporated awareness sessions to complement other health and economic development initiatives by CWS-P/A in the area. Currently, CWS-P/A's health team is preparing to host a festival on HIV&AIDS in Thatta District which will take place in May. Based on previous experience of hosting community events, CWS-P/A expects a significant community turnout at the festival, thus, enabling important messages related to HIV&AIDS to reach a large audience.