Escaping Food Insecurity and so Much More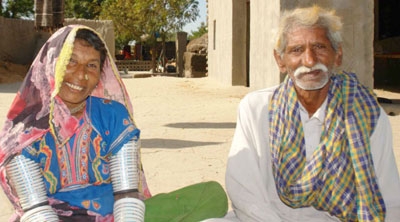 For the past several years, CWS-P/A reported success stories from its food security project in Sindh Province, Pakistan. Farmers started cultivating more land than prior to the construction of irrigation ponds and distribution of high quality seeds. Women joined self-help groups, started saving, and became small business entrepreneurs. But, what does it mean? How much better off are these families from rural Pakistan?
Amazingly, one household at a time, positive change is occurring rapidly. True, most families remain poor, especially from an international perspective. Their children may not have equal access to food, nutrition, and education as their counterparts in other parts of the country or the world. However, as quickly as the food security crisis hit this region and continues to cause communities to spiral downward, particularly economically, the food security projects in Mirpurkhas and Umerkot are helping families rise above the crisis. More than putting food on the table, the crisis adversely affects education and health prospects for the farming families. Rising food prices, droughts, water shortages, and other factors result in families choosing between food and everything else. Due to the project, families are regaining their previous economic conditions or improving upon them.
Togachi is a village in Mirpurkhas. Here, Wukji and Kahuo reminisce about their deteriorating situation before CWS-P/A and implementing partner, SSEWA-Pak, started a food security project in their village. "To this day, my wife and I feel bad that we had to take Danjee out of school for a year and that we had to make that difficult choice. But now this is no longer the case because our son is back at school," shares Wukji, a farmer who goes only by his first name. "My wife, Kahuo, and I had been going through rough times and the rising cost of living made it difficult for us to survive." He continues,
"I also did not have access to good quality seeds and fertilizers making it even harder for me to feed my family. Since I received training from the farming resource center and Kahuo became a member of the village development group, we have seen a change in our lives. I am thankful for the wheat and mustard seeds I received, and due to their good quality, there is increased productivity. With the help of the seed bank and bio-Neem compost, farmers in my village have increased their yield.  Prices are indeed rising but we feel we are saving now. Recently we purchased two goats and my animal feed preservation training is an additional savings for us. As these goats grow, I know we will earn more income maybe as much as Rs. 20,000 to 30,000 (US$ 235 to 353)."
Kahuo adds, "We have resources now, and we save because I grow vegetables in our backyard. I am thankful that I do not have to travel to the market anymore."
Considering this family could not even afford enough food, it is a triumph that within one year Wukji and Kahuo's son returned to school. Currently, he is completing his ninth year. Without support and resources infused into their community, Danjee may never have returned to school. The project, supported by Presbyterian World Service & Development and Canadian Foodgrains Bank, is creating pockets of communities that have an improved capacity to withstand the food security crisis and pursue every parent's dream for their children—a healthy life, complete education, and choices for a better future.
Written By Kelli Siddiqui and Donna Fernandes