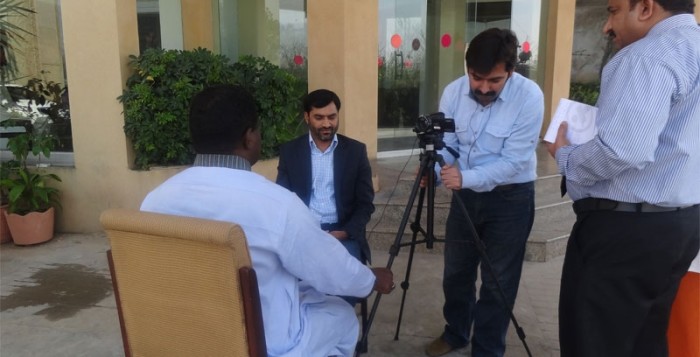 Advocacy work aims to give a voice to those who are often silenced. The twenty-first century offers a variety of means through which one can share a story or a cause. However, many of these options require an expansive skill set that many civil society organizations (CSOs) within Pakistan have not had the opportunity to acquire; leaving them dependent on mainstream media for their advocacy needs. CWS-P/A works to fill this gap by empowering CSOs with the skills they need to realize and strategize their communication needs, select the right media tools, and employ them in an effective and efficient manner for maximum impact.
From February 4—March 6, 2013, a six-week communication strategies course took place in Islamabad with online support to help build the capacity of CSO workers. It offered hands-on, interactive, and practical skills-building exercises which gave delegates a comprehensive understanding of different communications tools and how they can effectively use them in their advocacy campaigns. Additionally, this training was done in partnership with the Indus Consortium, a network of Oxfam partner organizations. CWS-P/A is working to fulfill the capacity building needs among Oxfam partners and is already in the process of conducting a few more capacity building trainings for them. The delegates came mainly from Sindh and Southern Punjab – the majority whom work entirely within advocacy. The training consisted of two five-day workshops as well as 17 days of assignments in which online support was provided by lead resource personnel.
Participants were delighted to learn new skills to bring back to their respective organizations. Aleem states, "Since the first workshop I have already started a blog. I didn't realize that it would be so easy and free! My organization is launching a new campaign, encouraging 250 individuals within rural areas to write at least 10 blogs each by 2018; writing in their native languages on local issues." He continues, "This workshop is really helpful for organizations to build lobbying strategies for those who cannot read or write." Participants learned how to cater their communications products to better suit the needs of their intended audiences. "My organization has already taken some of the tips we learned regarding the printing process and developed picture books for role playing exercises we do in the field. The community loved it!" Additionally, participants learned how to record, edit, and produce audio sessions. Aleem says, "We are paying too much money on audio editing that we can now do ourselves. It is now possible to reduce production costs and use the additional money to get more air time or invest the money back into the community."
Aleem was not the only participant that, even before the training had ended, was putting their newly learned skills to use. Makkal heads advocacy campaigns at the field level. She states, "Since the training I have made two blogs," but she is not stopping there. "Someday I hope to produce videos on the same topics as my blogs." Participants were taught how to better plan and conduct interviews and also how to use a video camera. Makkal continues, "Interview skills were the most helpful. We also learned how to plan before taking a video. Before this training I was always dependent on a cameraman." Now Makkal is able to organize and film interviews independently. This allows her to keep costs low and create advocacy campaigns with a personal touch – letting her capture the spirit of the interview in a way that professional cameramen may not be aware of.
Thirty-three representatives from a number of Pakistani CSOs are now equipped with the tools they need to better strategize and use resources more efficiently in their advocacy efforts. With comprehensive training on topics such as Photoshop, audio recording and editing, engaging print media, interviewing, blogging, video recording, and website maintenance, they can now better utilize technology to share meaningful stories and causes to a wider audience.