Enhancing Community Capacity toward Sustainable Livelihoods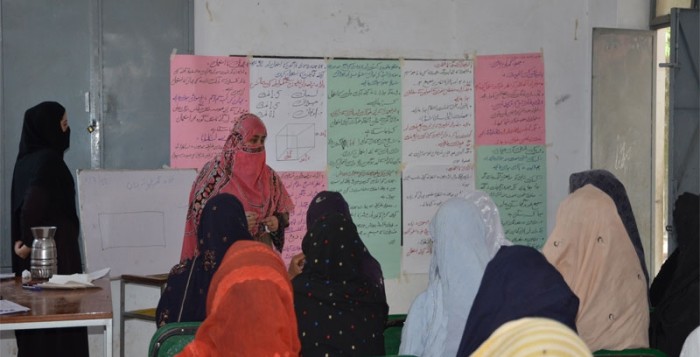 Last year, CWS-P/A implemented a livelihood project with funding through Mennonite Central Committee that focused primarily on livestock management, which came to a successful close in February 2012. With support from DanChurchAid, a new follow-up project to the previous one has recently begun in April. Due to conflict and severe flooding in recent years, many residents of Shangla have lost their assets and livelihoods and are in need of support. Targeting beneficiaries in Shangla District, this project aims to restore and improve upon the practical management of local livelihoods. Two of the planned training activities in this project were recently held.
These training sessions are designed to strengthen the expertise level of participants in a variety of areas. On July 3, 2012, a training session was held in Besham on Orchard Management. Two training sessions have taken place so far for a total of 45 participants. The majority of participants had experience with orchard farming and welcomed any recommendations to improve their current or future orchards. These eight hour sessions cover topics including planting, irrigation and/or water management, fertilizer use, transplantation, pruning, weed control, pest control, and post-harvest marketing. Additionally, a new technique to increase the survivability of freshly planted orchards is being demonstrated. Participants will receive approximately 40 fruit plants along with organic fertilizer to help them start or expand their orchards. There is one project-site training session per group which is then followed up with a visit to participants' residences at a later date.
The second recently held training, Poultry Management, is of particular interest because of its focus on women. Twenty-one women participated in the session on July 3, 2012, which covered the topics of poultry feed requirements, poultry health, disease reduction, disease treatment, caging and fencing, and breed selection. Only women took part in this exercise which was facilitated by two female instructors. Women taking part in poultry training will receive approximately 40 chickens, fodder for 2 months, and cages. The poultry training is designed to empower the women living in the surrounding communities so that they can have a respectable living and increase their food security.
In total, this project has seven training areas including: livestock management, animal breeding, animal nutrition, indigenous poultry farming, poultry nutrition and health management, orchard management, and vegetable farming/kitchen gardening.