Enabling Disaster Response for All: International Day for Disaster Reduction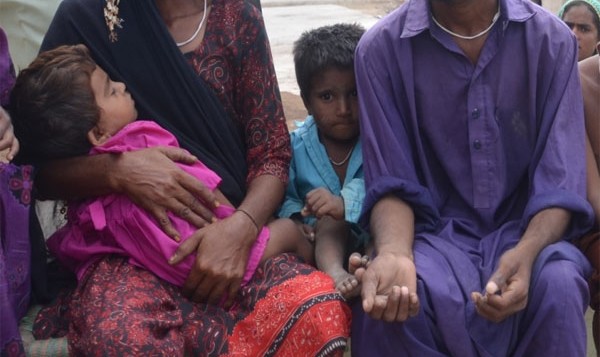 October 13 marks the annual International Day for Disaster Reduction. On this day all citizens are encouraged to raise awareness or take action on building communities which are disaster resilient. This year's theme focuses on disaster reduction for those living with disabilities. Already a vulnerable group in society, persons with disabilities (PWDs) are often left completely dependent on family members in the case of disaster, with no concrete disaster response plan in place.
Pakistan is highly susceptible to disaster. Over the last decade alone over 100,000 people have lost their lives due to earthquake, flood, drought and other natural disasters (Dawn, 2011). Furthermore, tens of millions of people's economic situation worsened after being left homeless, without their main source of livelihood, or without access to basic infrastructure. Frequent disasters, conflict, and inaccessible medical care and education have also left many people with disabilities throughout the country.
It is approximated that 5.035 million people within Pakistan are living with a disability, accounting for 2.65% of the total population. The population of PWDs in Pakistan is greater than the entire population of countries such as Norway, New Zealand, or Kuwait (HHRD, 2012, xii). The most common disability in Pakistan is to be crippled, accounting for 19.2% of PWDs (HHRD, 2012, xiii). The majority of those living with disability (65.7%) are living in rural areas, without access to equipment or facilities to meet their needs (HHRD, 2012, xvi). Given the large population living with disabilities and the frequency and magnitude of disasters in Pakistan, a specific need exists to build the capacity of those living with a disability in disaster response and mitigation. Abdul Majeed of Niaz Mallah Village in Thatta, Sindh recently had this opportunity.
At the age of five Abdul Majeed lost his eye sight. As informed by the doctor, this happened due to high fever. His feet also became swollen with blisters, and as the infection spread, his nails and fingers dissolved. Unable to work, Majeed is dependent on his father and brothers who work in the field to earn a living and care for their family. Majeed shared that he spends his time at home and has never been treated for his disability due to poor living conditions. His mother takes care of him; she does all the work for him. Majeed shared, "When my village received the warning for 2010 floods, my mother helped me to evacuate the house; she took me to the nearest safety bank on a donkey cart."
In March 2013, Majeed attended a DRR training by CWS-P/A. Although he was unable to participate in some of the activities, he was able to listen and grasp the knowledge of how to react in case of an earthquake and measures that can be taken to avoid the risks of fire and flood. After attending the training, he passed on the information to his family and helped them in raising the ground level in front of their house with mud plaster and shifting the kitchen outside as a safety measure.
"During the day my family is at work and on a few occasions I am alone in the house. I really don't know what I will do in case of an earthquake; maybe I will just stay inside or I will try to crawl under a table," said Majeed. He feels that there is a need of a separate DRR training catering to the needs of disabled people.
As seen in Majeed's story, training in DRR for vulnerable communities is helping in the goal to build disaster resilient communities across Pakistan. Although trainings emphasize the need for communities to ensure the safety of all residents, including the young, elderly, and disabled, a gap still exists. In a country like Pakistan, where the prevalence of disability is high, greater emphasis and attention to DRR training and other initiatives that cater to these vulnerable groups will save lives during future disasters and also provide a sense of security and independence for those individuals living with disability.
Bibliography
Dawn, 2011. Ten Worst Disasters in Pakistan. Dawn News. <http://beta.dawn.com/news/661518/ten-worst-disasters-in-pakistan>
HHRD, 2012. Persons with Disabilities: Statistics in Pakistan 2012. Research and Development Department of Helping Hand for Relief and Development (HHRD). < http://hhrd.pk/crp/wp-content/uploads/2013/02/PWDs-Statistics-in-Pakistan-2012-2.pdf>