Empowering Youth to be Future Leaders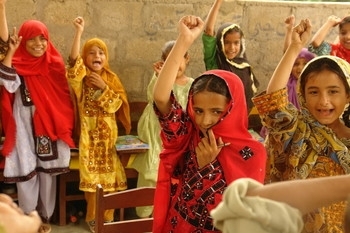 Church World Service – Pakistan/Afghanistan through its various program interventions works to enhance and facilitate the capacities of youth in both Pakistan and Afghanistan. These interventions range from promoting peace education to providing an understanding of democracy, raising awareness, and skills building.
For almost seven years, CWS-P/A's Sindh Political Education Program has worked through workshops and summer camps to promote a culture of peace, harmony, and human rights in Pakistan. During the summer camps, students participate in an election process amongst themselves while gaining a comprehensive understanding of voting procedures, election commissions, and electoral candidates. In addition, students also learn by participating in activities related to child and human rights. Students and teachers participate in a sessions on quality education as well as visual demonstrations through theater performances including puppet shows and role-plays.
The Peace Education for Primary Schools Project over a period of three years has worked with schools in parts of Sindh to raise awareness on the importance of peaceful living. CWS-P/A introduced peace manuals and workbooks for teachers and students while making peace education a part of the curriculum in schools. Thousands of students benefit from the project with encouraging feedback from parents, teachers, and students about the course and its contents.
CWS-P/A also works to raise awareness on HIV & AIDS by conducting sessions with adolescents and community members. Students participate in poster competitions and demonstrate their understanding through conceptual images. In a recently held poster exhibition, students also gave speeches on HIV & AIDS highlighting the myths and stigma associated with people living with HIV & AIDS.
In Afghanistan, CWS-P/A has worked to establish child rehabilitation centers to provide children with a safe and healthy environment which is conducive for learning and recreation. Students who attend CRC gain life skills and education that help them cope with living in a region facing economic, social, and political challenges. Awareness sessions are also held with parents for child development, nutrition, hygiene, and the importance of girls' education. CWS-P/A also works to enhance the enrolment of girls and to improve the quality of education in schools by raising awareness with community members and stakeholders and by lowering the cost of sending girls to schools by providing textbooks and stationery supplies.
Training and awareness sessions with teachers through various initiatives in Pakistan and Afghanistan aim to improve the quality of education and to create child-centered classrooms which are conducive for learning. Creating an enabling environment in schools also leads to fostering confidence and creativity in students. Simultaneously working with parents also creates a good home environment which increases the positive impact on students.
CWS-P/A recognizes the importance of empowering youth through creative, participatory, and relevant methods that keep energy levels high and encourage future actions. CWS-P/A's Ireen Khan shares, "Our youth projects are designed keeping in mind the psychology of children; many of them learn, observe, and implement everything they are taught. The difference they make within their communities has trickle down benefits for the development of society and for the larger good of the country."