Empowering Girls in Afghanistan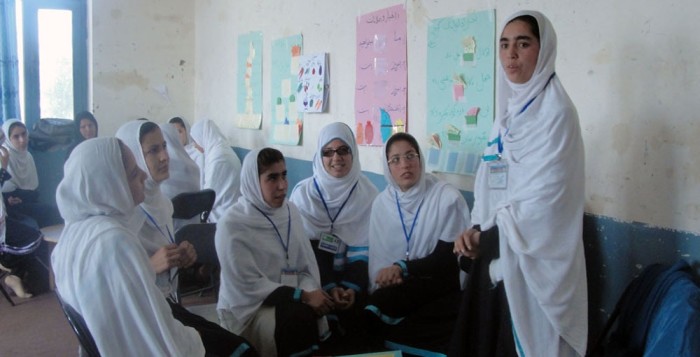 Five years into the girls' education project in Afghanistan, CWS-P/A implemented skills based classes in fourteen schools across Nangarhar and Laghman. During the 2013-14 school year, more than 1,400 girls participated in five skill-building classes which included speech delivery, painting, drawing, hand embroidery, and acting. In addition to learning the basic school curriculum, these students built confidence, engaged in extracurricular activities, and learned topics such as child rights.
To culminate the year's activities, girls of Kuz Sultanpur Girls High School in Surkhroad District, Nangarhar participated in a quiz competition organized in June 2014. Parents who comprised the audience shared they initially thought their daughters were studying early for exams. However, school management soon informed them about the quiz competition.
"I always thought that it is difficult to prepare for a quiz on different subjects within a week, and I assumed that it is not possible for me to compete with anyone, but after participating in this quiz competition I felt very confident and a productive team player," shared one of the 150 students who participated in the event.
The scoring team included local, project trainers, the school principal, and Mr. Abdul Baseer from the Surkhrood District Education Department. He shared, "I am pleased to know that CWS-P/A is working hard to provide different opportunities to the students and teachers in order to build their capacities. These initiatives can brighten a student's future and are very important and effective to rehabilitate this country." School bags and stationery items were distributed as a token of appreciation to the students.
The competition included ten teams which helped the students realize the value of teamwork. They were able to not only recognize their own talents but also those of their peers. In discussion following the event, girls expressed hope for the future and added ideas such as paying for services which will benefit their educational future. Several also expressed that their new knowledge of child rights, violations of these rights, and measures to prevent child abuse motivates them to pursue higher education.
"Occasions and gatherings like this are always very helpful and constructive for students. We work hard to perform well. Furthermore, it also gives us an opportunity to gauge our level of knowledge," shared a student. These responses encouraged the school management to continue planning for additional activities on a regular basis.
Girls' Education Project in Afghanistan is funded by Presbyterian World Service & Development and Act for Peace.