Empowering Children to Become Change Agents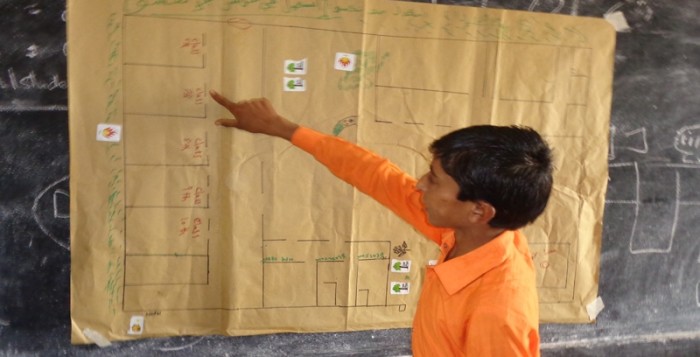 "During my childhood, I witnessed a flood in my village. As I recall that day, everything was destroyed. After attending training on disaster risk reduction (DRR), I learned the causes of floods and how it has an impact on us. I also learned safety tips and saw flood simulation models. I feel very knowledgeable after attending this training, and I am very keen to share this information with my family, friends, and community members," shared Bashir Ahmed, a ninth grade student.
One hundred fifty participants including students and teachers participated in DRR trainings organized by CWS-P/A during the month of August 2014. Students of different villages in Thatta stepped forward to establish School Young Children Safety Club. Comprising of an executive and general body, their aim is to continue practicing DRR activities at schools by disseminating information to create awareness.
With the aim to build disaster resilient communities, participants learned how to be prepared and overcome the causes and impact of natural hazards. Interactive techniques and audio visual aids build upon the existing capacity of participants to effectively respond to emergencies. Activities which emphasize taking necessary steps to prepare for future natural disasters included school evacuation plans, sandbag usage to protect from floods, rescue methods, vulnerability and capacity assessment.
"Whether we are at home, school, or work we all need to know how to stay safe from hazards. Our aim is to be prepared and resilient as much as possible and keep ourselves updated on the latest news, videos, and photos as a source of information," shared Faizullah, a student.
The communities' active participation reflects their appreciation for this life-saving and improving initiative. Other then the training participants, community members were also eager to learn DRR mitigation techniques and methods. One hundred community members including twenty-five women were trained on safer house construction techniques so they may be equipped to build multi-disaster resilient houses.
This initiative is possible with generous support from Christian Aid.