Education: Documenting Impact in Sindh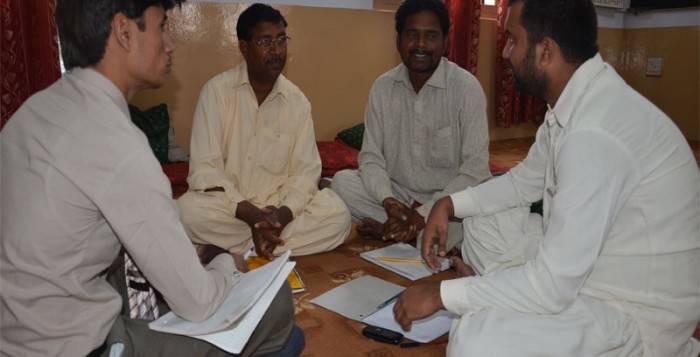 James Goel attended CWS-P/A's summer camp in 2003 in Mirpurkhas District, Sindh. In 2005, James, who prefers to go by first name, shared that he was elected as the General Consular of the district for minorities. Recalling a childhood incident during which he saw his mother mistreated by her employer he said, "No one wanted to listen to our complaint for her rights." He added that this incident sparked the enthusiasm in him to work for the minority community.
James described his services working for minorities in the district despite the challenges involved. He said that they were able to get members of the minority community registered with national identity cards, repaired local infrastructure, and worked for the empowerment of women. "The work was never easy, but we put in our efforts and people started to get to know us." He shared, "For the position of the next General Consular I had recommended, Rano Singh. Rano is a member of the Hindu community and I knew him."
Noteworthy is the fact that James credits CWS-P/A for nurturing in him self-confidence to participate in electoral processes. Realizing the years of work in reaching far-flung communities and with hopes for further project expansion to other areas, CWS-P/A project staff members recently conducted a study to gauge the successes and impacts of the project in Sindh Province. A total of twenty-one participants attended the event from various districts across the province. While participants remembered their learning from the camp in the form of training topics, activities, role-plays, and stories they all shared that the trainings churned much confidence in them.
During the study, project staff members interacted with participants who had attended the camps during its initial years, and they began to share their experiences from the camp and how the learning was put into practice. Interactions with participants like James and others demonstrated the impact the project had made in fostering communities to take ownership of their roles as active citizens.
Since 2003, CWS-P/A has been working in Pakistan to bring awareness on democracy, human rights, child rights, citizen participation, and elections among others to teachers and students in Sindh. These initiatives have recently expanded to the country's province of Punjab. This year the initiative is being expanded to Afghanistan and a training camp is underway.
While the project continues, staff members hope that communities are able to think critically about the various topics on state and democracy, child rights, human rights, and gender. CWS-P/A also hopes that communities are able to contribute positively to overall democratic processes in Pakistan and Afghanistan.