Eager to Learn: A Celebration of New Opportunities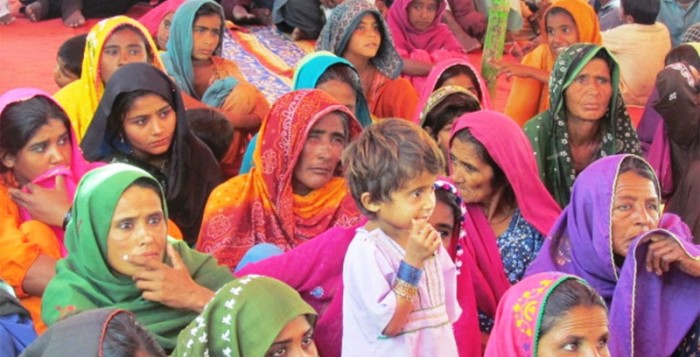 March 15, 2013 marked a special day within the small village of Aaloo Luthayo in Bijora Union Council, Thatta, Sindh, Pakistan. It is a day that represents hope, change, and empowerment for many of the women within the area. Over 70 people gathered excitedly outside of a small shelter which was once just an empty room but is now filled with colorful materials and eager learners. Aaloo Luthayo was celebrating the inauguration of their vocational training and adult literacy centers. Over the course of the next six months, 60 women will have the opportunity to hone their craft while simultaneously taking literacy classes.
Community organizations (COs) have been formed at the sub-village level within 63 villages of Bijora in order to represent households and build capacity to further give direction for development initiatives based on community needs. All CO members are active members of their communities and were elected to speak on their behalf regarding development initiatives. These COs, which are directly representing households within their villages, hand-picked the beneficiaries for the centers, expressing that they have chosen those most keen to learn but also with enough time to spare to devote their attention to a new trade. Some women from a CO stated, "We are now too old and busy, but our daughters are bright and have enough time to spare. We will send them to learn vocational skills and become literate." Sabhagi, an elected secretary from one of the COs stated, "We all are happy and expecting to learn many skills and get education through these centers." Women within the area had shown significant interest in developing their skills and attending literacy classes but had simply never been given the opportunity. President of another CO, Sabhai, expressed her gratitude to CWS-P/A, "We are all thankful and happy to see such wonderful arrangements made by CWS-P/A. Being a president of this village's CO, I am confident that this center will be one of the best vocational centers!"
Within Bijora, CWS-P/A with support from Christian Aid opened two vocational centers along with two literacy centers. Three chief guests attended the inauguration ceremony; representing the social welfare and literacy departments of the government of Sindh as well as the principal of the notable Sindh Technical Education and Vocational Training Authority (STEVTA). The STEVTA principal said, "This world is moving so fast and every nation is trying to compete with each other. In this competition, success without technical education is impossible. I expect to see big results and the efficient use of resources from this community. It is amazing to see such a large number of people within a community so eager to learn." COs have worked hard to mobilize their communities in order to empower women and develop livelihoods as well as develop disaster resilient plans for the future. These grassroots development initiatives are what will make the students of the centers successful in the long run.