DRR: Sensitizing Communities in Afghanistan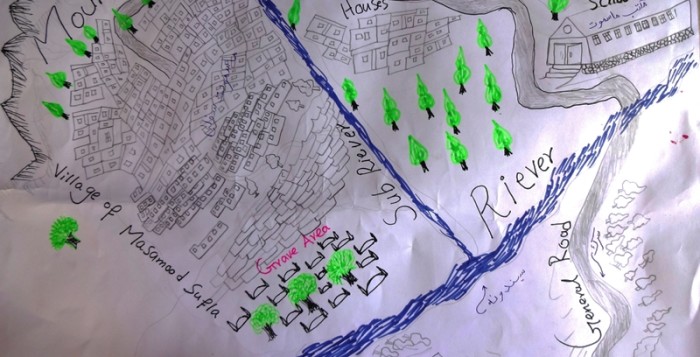 A one-day workshop on Action in the Front Line (AFL) organized by CWS-P/A was held in Masamoot Village, Alishang District, Laghman. Twelve AFL committee members participated in this workshop to comprehend the concept of disaster risk reduction. With assistance from the facilitators, participants developed a disaster profile of their villages with a hazard map in order to identify public places such as schools, clinics, mosques, roads, graveyards, hand-pumps, streams and rivers, etc. Areas highly vulnerable to natural disasters were also identified since this village is prone to floods, earthquakes, and extreme weather conditions.
A problem tree produced by the participants demonstrated the problems and potential risks posed by a natural disaster. The participants further prioritized and analyzed the problems to come up with solutions. Some solutions were identified as resolvable within the community while others would require support from external stakeholders. A DRR plan developed as an outcome of this activity will be shared with Provincial Development Committee, Afghanistan National Disaster Management Authority, and other stakeholders.
Residents in this area are primarily dependent on agriculture and livestock for their livelihood. Due to recent disasters their land and pasture area for animals is destroyed. It is challenging for the community members to regularly participate in the training sessions while they struggle for livelihood. Irrespective of their challenges and other responsibilities, communities are prioritizing DRR. With assistance from CWS-P/A staff, the committee and community members are taking initiatives to share this information with their families and other community members to replicate their learning. It is important to sensitize the community on the importance of DRR to further strengthen their capacity and to identify a systematic intervention by working in partnership with stakeholders.