DRR: Communities Relate to Vulnerabilities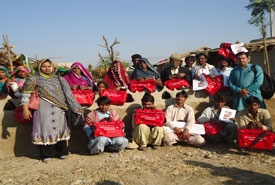 Church World Service-Pakistan/Afghanistan (CWS-P/A) educates rural communities on disaster risk reduction through its Mobile Knowledge Resource Center (MKRC). During the last two months, more than 500 community members and 353 students participated in twenty-six trainings, successfully conducted in various villages of districts, Sujawal, Umerkot and Thatta. Participants are engaged through a variety of theory, IEC materials, and practical application activities. The approach is designed to attract interest and help communities relate to DRR in a way that encourages them to practice effective preparedness and mitigation. Through the training, the community also benefits from identifying actual vulnerabilities in their villages, developing a disaster preparedness plan, and assigning roles and responsibilities.
During the hazard, vulnerability, and capacity assessment (HVCA), participants produced maps of their localities with the aim to collect information on particular hazards in their area and identify vulnerabilities which contribute to disasters. This exercise assisted in categorizing short and long-term interventions required to reduce risk levels and root causes of floods, fires, and cyclones. A disaster preparedness plan was strategized by the community to classify levels of self-help and external interventions.
As a part of a school disaster management committee, students took ownership of their roles by committing to organize DRR training for all the students which will include mock drills, sharing safety tips, and outlining an evacuation plan. Lucky Ratani, an 8th grade student, shared, "I have keen interest in this training which is new for me. Our school is situated in a hazard prone area; therefore, I will further share this information with my friends, family, and neighbors. My mother died due to fire. If she had attended this training, maybe she could have saved her life."
To institutionalize and strengthen DRR practices, community and village organizations (COs and VOs) were encouraged to take responsibility as a vigilance committee during calamities. For the long-term socio-economic development of communities, women, people with disability, and other marginalized groups were encouraged to take lead in identifying and demonstrating various risk reduction initiatives. To reduce the dependency on external support, a fund to be utilized during emergency situations was established at the community level.
"This training is relevant to our needs because we have already experienced and were affected by disasters in the past. Now, we can save ourselves, our children, and our personal belongings. We realized that previously we did not know how to protect ourselves, but through this training, we learned several mitigation measures which we will definitely implement from now onward. I am happy to be a part of this training, and I hope that we will be able to save our future," commented Razia, a resident of Phul Jakro, Sujawal.
Church World Service-Pakistan/Afghanistan (CWS-P/A) is implementing this project in Sindh with generous support from United Methodist Committee on Relief (UMCOR), Christian Aid (CA) and CWS Inc.