Disaster Risk Reduction: Mobile Knowledge Resource Center Launched in Karachi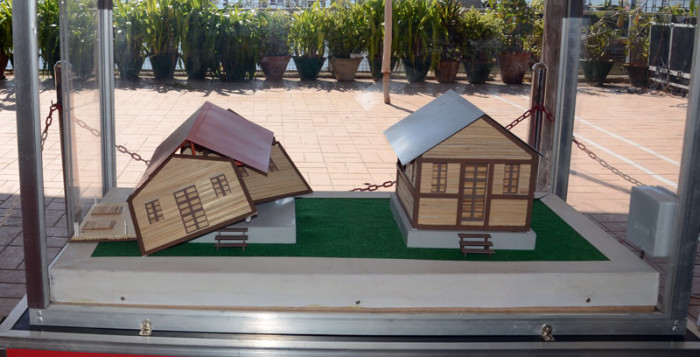 Approximately one hundred guests attended the launch of the Mobile Knowledge Resource Center (MKRC) held on December 12, 2011 in Karachi's Beach Luxury Hotel. The event is a milestone in disaster risk reduction and helps communities stay prepared through innovative techniques that reduce their vulnerabilities and increase their capacities for the future disasters. Among others these innovative approaches include town-watching exercises, sandbag preparation, life-saving bottle making, and constructing a rescue boat. Additionally, communities will receive emergency bags and first-aid training.
At the event, visual materials and simulation models were displayed to the guests along with a brochure containing safety tips and techniques for making life saving bottles and preparing sandbags. The participants demonstrated much eagerness in learning about the unique aspects of imparting education on disaster risk reduction. They asked questions pertaining to the construction of safer housing and highlighted the importance of spreading the knowledge especially in schools and among students. The event included speeches by distinguished guests: Mr. Asif Jehangir, PDMA; Mr. Masaharu Sato, Consul General of Japan; Mr. Tsutomu Mori, Deputy Managing Director Hinopak Motors; and Mr. Khaskhelly, District Officer Literacy Thatta District.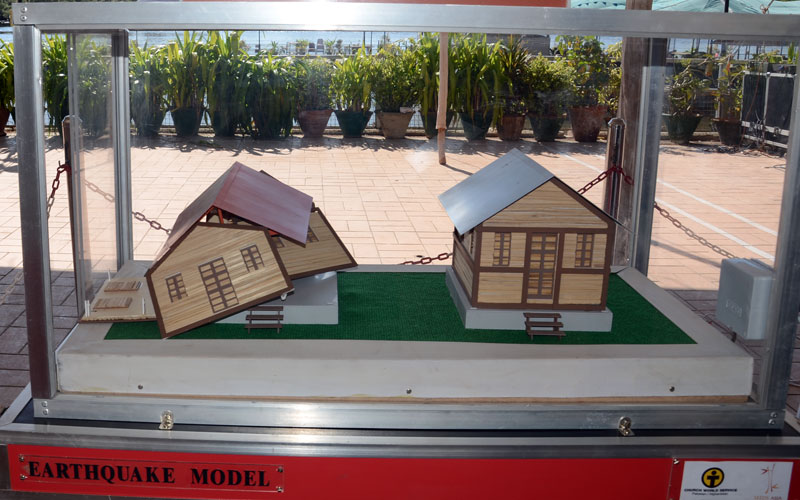 Two houses affected by an earthquake demonstrated to particpants at the launch.
In his opening welcome speech, Dr. Rajib Shaw, Board Chairman of SEEDS Asia, shared that education is an invisible investment and education on disasters comes out through risk reduction. During the event, Ms. Asami Matsumoto, Project Manager for SEEDS Asia Pakistan shared a presentation on hazards in Pakistan and MKRC's strategic approach based on the Knowledge, Interest, Desire, and Action (KIDA) model. Through its concept of 'Reaching the Unreachable', the MKRC will travel to remote villages in Thatta District, Sindh. Over 1,000 individuals will benefit through trainings and awareness sessions on disaster risk reduction including 750 school children.
The collaborative initiative by Church World Service-Pakistan/Afghanistan (CWS-P/A) and SEEDS Asia marks the first ever mobile unit on disaster risk reduction awareness implemented in Pakistan. MKRC is funded by Christian Aid (CA) through the Disasters Emergency Committee (DEC), and Mr. Neill Garvie, CA's Emergency Programme Manager Pakistan, was also present at the launch. The event concluded with an official closing by CWS-P/A's Deputy Director, Ms. Shama Mall, who emphasized the importance of bringing this initiative to communities and appreciated the efforts of all those involved in its creation. As CWS-P/A and SEEDS Asia actively work with communities through the MKRC, it is expected that the improved ability of communities to forecast future hazards and disasters will lead to minimal losses. Furthermore, the mobile unit will maximize the initiative's outreach as it anticipates attracting the interest of community members in rural Sindh.